Plea Deal in Gruesome High Caliber K-9 Kennel Case
Friday, December 5th, 2008 at 8:15 am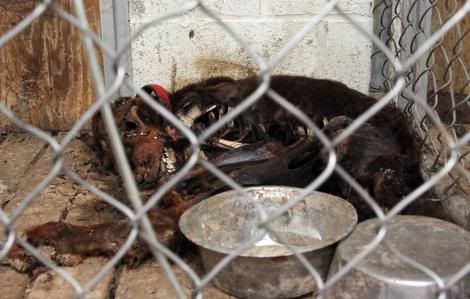 UPDATE – 1/23/09 – Dog Killer High Caliber K-9 Owner Gets Jail Time for Starving Dogs
There were 7 dogs dead of starvation, another 12 emaciated; starved and dehydrated, only 4 counts of animal cruelty, all misdemeanors and Steve Croley is getting a plea deal. What a total and complete travesty of justice!
In October when Animal Charity humane agents went to the property at 1516 Coitsville-Hubbard Road, Youngstown, OH, High Caliber K-9 Kennel, a business which offered boarding, training, grooming and more, the sight which greeted them was almost beyond belief. Seven dogs dead and some so composed they couldn't even be recognized for the breed they were, another 12 dogs starved to skin and bone. The humane officers were desperate to get in and rescue and save dogs.
Steve Croley, the owner of High Calber, was initially charged with 19 counts of animal cruelty, only misdemeanors because OH is one of only 5 states that doesn't have felony charges for such heinous animal abuse crimes. Later 15 of the charges were dropped, leaving only 4 charges which he could be prosecuted for.
Youngstown City Prosecutor Jay Macejko says the Humane Agents with Animal Charity went onto Croley's property prematurely, without the necessary warrants that they acted unlawfully, and that "its unlawful conduct sacrificed a full scale prosecution." So he only filed charges on the four dogs that the agents 'saw' prior to entering the property.
And now on top of that injustice, Croley has been offered a plea deal; 30 days in jail on each count; restitution of $1,646 to Animal Charity, a humane agency on South Avenue that rescued dogs from the property; and a provision that Croley not own or harbor animals during his probation.
So now there will be no trial on Dec. 18, Croley pleaded no contest yesterday and two housing violation charges were also dropped in accordance with the plea deal.
Sentencing is set for January 22. Now the Judge may impose more time and fines than worked out in the plea deal, up to 90 days in jail and $750 fine for each count and if that happens Croley could withdraw his plea and the case could proceed to trial.
This piece of human waste who deserve serious fines and prison is getting less than a slap on the wrist for his crimes! Dogs suffered cruelly and died caged in kennels, alone and forgotten and he will be out walking the streets. There is no justice!!
I cannot even begin to describe to anger and disgust at this, those poor dogs and their devastated owners……
Email This Post
Like this post? Subscribe to my RSS feed and get loads more!