Police Find Dead & Dismembered Animals, Decapitated Puppy – VIDEO
Wednesday, January 7th, 2009 at 8:14 am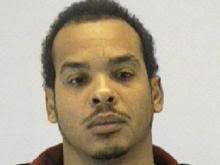 In what officers are calling one of the most gruesome cases of animal cruelty they have ever seen, they found dead, dismembered, decapitated animals as well as living animals, some extremely sick and malnourished were found at one Wayne County, NC mobile home. They also found a machete, knives and bowls of blood, animal parts including a puppy's decapitated head inside a freezer.
The investigation began almost a month ago and culminated Monday when officers went to the home belonging to 28-year-old Lawton Mckenzie.
Animal Control removed 26 live animal including dogs, goats and sheep, one goat so malnourished that it couldn't even lift its head. It was taken for emergency care where it died shortly after.
The dismembered animals included dog, goats, snakes and more. Body part were scatter about the property, too many dead animal to count. They found a goat's head on a makeshift grill.
"He indicated during interviews that the animals were found as road kill, and he was using the animal bones for necklaces. But he also said he was practicing taxidermy," said Justin Scally, Wayne's animal control director.
"There was a spot where some animals had been burned," Scally said. "We got sheep, dogs, snakes. There was a turtle. There were owls, a crow. There was a fox."
"It was the most horrific, disturbing case that I have ever investigated," he said. "What we saw I don't think I will ever forget for the rest of my life."
Initially McKenzie was in jail on unrelated charges and when he bailed out on Tuesday the Wayne County Sheriff's Office arrested Lawton McKenzie and charged him with 3 counts of animal cruelty.  Additional charges may follow after more investigation.
The animals that were removed are in protective custody, the dogs are now in Wayne County Animal Control and are recovering.
Court records show McKenzie has had a string of misdemeanor charges in the past but nothing involving animals.
Neighbors say they are sickened and shocked.  What I don't understand is how something like this can go on and no one do anything.  There are animal and animal parts all over the place.  The smell must have been beyond belief.  Are people so innured to cruelty that something like this can go on and people can just not see it?
Some of the neighbors say they say sick and dead animals, one even says he knew McKenzie got goats and killed them and cut them up, that he's get dogs and leave dead dogs around.
There's no doubt Lawton McKenzie is one scary, sick person, but what about anyone who actually saw this and just did nothing.  What is wrong with our society?  What if it had been children running around, sick, neglect, abused… would anyone have done anything then?  You really have to wonder!
Email This Post
Like this post? Subscribe to my RSS feed and get loads more!