Preliminary Hearing for Puppy Killer, Glynn Johnson, Under Way
Wednesday, April 29th, 2009 at 6:53 am
UPDATE 5/2/09 – Glynn Johnson to Stand Trial
Glynn Johnson, the former LA County asst. fire chief who last November brutally beat Jeff and Shelley Toole's 6-month-old puppy, Karley, is in court for his preliminary hearing.  This is to decide whether there is sufficient evidence for Johnson to stand trial on the felony animal cruelty charge.
Usually during a hearing of this sort only prosecution witnesses are hear from but in an unusual move the defense has already called Johnson's wife, plans to call additional witnesses and the court may also hear from Johnson himself.
So far the court has heard from Travis Staggs, the neighbor who when Karley escaped ran to his yard to visit and probably play with is dogs.  Staggs has testified that when he was walking Karley home, Johnson approached him and offered to take the puppy.  Shortly after taking the puppy, Staggs said that he saw Johnson begin his brutal attack on the it for no apparent reason.
Staggs said he passed the dog under the fence to Johnson, and watched as Johnson walked with the dog away from the fence.

He said he saw Johnson strike the dog twice in the head with a closed fist. Johnson was holding the dog's collar with one hand, and punching with the other, Staggs testified.

Staggs said he didn't see the dog acting aggressive toward Johnson – either before or after Johnson struck the dog.

"She was trying to get away from him – trying to get out of her collar," Staggs said.

After the first two blows, Staggs said Johnson threw the puppy onto its back, then straddled the dog and continued to hit it with a closed fist.

Staggs testified that he ran to Johnson's yard, and yelled at him to stop hitting the dog. Johnson didn't respond, Staggs testified.

After Johnson struck the dog 10 to 15 times with his fist, Staggs said he saw Johnson grab the top and bottom of the dog's jaw and pull the two sides in opposite directions. Johnson was "trying to break her jaw," Staggs testified.

Johnson then grabbed a stone from the ground and struck the dog an additional 10 to 15 times with the stone, Staggs testified.

Not once during the incident did the dog act aggressive toward Johnson or try to bite him, Staggs testified.

After the incident, the dog ran away from Johnson's home and laid down in an open field in the neighborhood, Staggs testified.

"She was injured pretty badly. … She had blood coming out of her mouth, and her tongue was coming out of her mouth," Staggs said. (ContraCosta Times)
Other neighbors also testified that they saw Johnson beat the dog and that the dog did not seem aggressive nor did they see it bite Johnson.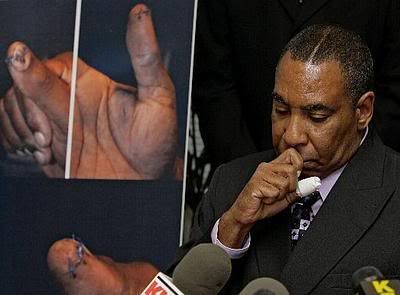 Of course when Johnson's wife, Bonita, took the stand, she defended him saying that he was defending himself against an attack from the puppy. She also said that he only hit Karley three time with the rock although other witnesses describe the scene very differently.
And Johnson, who by all accounts is a sizable, fit and trained fire fighter, contains to maintain his innocence claiming that he was defending himself from an attack from a brutal bite the 45-lb dog inflicted on him. The defense pulled out a poster size picture of the injury to his thumb, showing the stitches. Wow! I've done worse to myself in the kitchen!
There is no way this bastard is gonna get any sympathy from me and from all the reading I have done since the beginning of this, he's not getting much of any sympathy from anyone else either, including many of his fellow firefighters.  That says a lot to me in itself.  Usually firefighters ad police officers tend to support each other very vehemently but in this case some of the strongest words I've heard against Johnson, aside of course from the Toole's, is from Johnson's fellow firefighters.
I cannot imagine that this will not be bound over for trial.  When prosecutors showed pictures of Karley it drew stunned horrified gasps from those attending the hearing.  The vet also testified yesterday and if the testimony was anything close to previous statements, they should weight heavily.
"I've never seen a dog come in with that level of head injury," said Dr. Howard. "I've seen pets who have been hit by cars and they were thrown by the car and suffered fractures to the nose or skull but I've never seen a case where their head was that badly damaged."
Well, this debacle will continue today and I know that I will be awaiting the outcome.  There must be justice for this innocent puppy that was so cruelly and brutally abused by this vicious "man!"
Previous stories:
Puppy Brutally Beat, Self-Defense Claimed – VIDEO
Sheriff's Office Recommends Charges Against Fire Chief, Glynn Johnson
Puppy Killer, Glynn Johnson, Arrested… Finally!
Glynn Johnson's Puppy Killing Defense – VIDEO
Puppy Killer, Glynn Johnson Pleads "Not Guilty"
Puppy Killer, Glynn Johnson, Suing the Owners of the Puppy He Killed
Email This Post
Like this post? Subscribe to my RSS feed and get loads more!