Proposed Montana Pitbull Ban Shot Down, Dead!
Friday, January 23rd, 2009 at 1:13 pm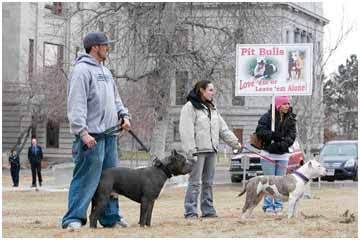 Hallelujah, Hallelujah, Hallelujah!!
In a vote of 17-1, with Montana state Representative Robyn Driscoll of Billings being the only vote for, HB 191, the proposed bill to ban pitbulls in Montana was quickly shot down. Then the House Local Government Committee voted unanimously to table the bill, which means it is dead, DEAD, DEAD! YES!
More than a hundred pitbull owners, many with their dogs, thronged the Capitol on Thursday to have their say and protest the proposed legislation sponsored by Driscoll.
Since the announcement of the proposed bill, Dricoll has received hundreds of letters, emails and calls, most all against the legislation and many of them against her specifically as well, including some death threats.  While I certainly don't advocate death threats, I do believe that the overwhelming outcry against the bill made a huge statement to her and to the committee of what they were up against from people who are passionate about dogs and pitbulls.
I, like most anyone who truly loves dogs, am strongly against any kind of BSL, against any breed of dog.  Cliche or no, it is the person behind the dog that makes the dog what it is, a loving and wonderful member of society or a vicious killing machine.
Now, I would wholly get behind a ban against irresponsible dog owners, in a heartbeat!  If someone will sponsor a bill like that I am sure they would have overwhelming support… and the rep of many dogs like pitbulls and dobies and shepherd and many others that are so routinely discriminated against, would turn around pretty quickly.
Kudos to the Montana House Local Government Committee for making the right decision!
Email This Post
Like this post? Subscribe to my RSS feed and get loads more!