Puppies Left to Die in Middle of Road – VIDEO
Tuesday, September 9th, 2008 at 10:43 am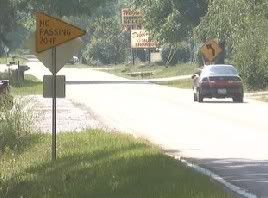 It was a gruesome discovery for one dog and animal lover, Nancy Huff. "I've never seen anything like it, it was horrifying, I had to turn around, because it made me instantly sick. They were all over the road. I just don't understand who could do something like this."
Nancy lives just down the road from where the horrible incident occurred.
Someone tied up a litter of puppies, numbering about 10, in a plastic garbage bag and left them in the middle of a busy road, U.S.60 in Bath County near the Salt Lick community in Kentucky. Just left them there to be run over like discarded trash.
"Why would someone leave alive or dead puppies in the middle of the road, somebody did this on purpose," Eugene Kinney, with Kentucky SPCA said.
There are no leads or suspects at this time but Kinney is determined that the person or persons responsible for this 'despicable' crime will be found and when they are, he will push for felony charges. Animal cruelty is normally prosecuted as a misdemeanor but he calls this nothing short of torture. There is no way of know whether the poor puppies were already dead or not before they were so cruelly disposed of, not that it matters.
"We will find out who did this and we will bring them to justice, there is just no excuse for something like this," Kinney said.
If you have any information, you are asked to contact the Bath County Sheriff's Department:
Bath County Sheriff's Office
17 W Main St
Owingsville, Kentucky 40360
(606) 674-2931
I can only hope that they find the trash that would do something so cruel and heartless!! What the hell is wrong with people to defile something to innocent and defenseless?? I wish we could tie people like this up in their own bag and leave them in the middle of a busy highway and see how they fare!
And I am heartily sick of people saying, 'oh, you care more about animals than people'! Don't they realize the type of scum that will do something so vicious and heartless to an innocent animal is just a short step from violence against people?
Email This Post
Like this post? Subscribe to my RSS feed and get loads more!