Puppies Trapped in Drainage Pipe Rescued!
Wednesday, August 8th, 2007 at 11:04 am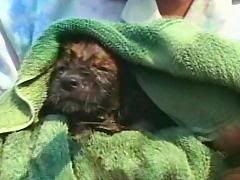 Little barks and cries led to the discovery of two tiny puppies trapped in a drainage pipe under Lipscomb Street in Melbourne, FL yesterday afternoon.
After initial attempts at rescuing the puppies by bystanders failed, the Melbourne Fire Dept. arrived on the scene and with a blast of water the first puppy was rescued, the second the removed shortly thereafter.
The puppies, soggy and scared but otherwise uninjured were taken to the local animal control shelter Tuesday night.
Email This Post
Like this post? Subscribe to my RSS feed and get loads more!