Puppies Used for Target Practice – VIDEO
Wednesday, March 19th, 2008 at 7:23 am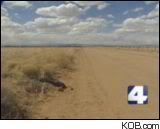 In New Mexico along an area of Fence Line Road, deserted and desolate, residents are facing horrors of dead, dying animals; puppies, goats, horses. People are taking puppies out there and shooting them for target practice, drugging them, starving them and leaving them, many of them dying horrible deaths. The bodies and abandoned animals keep turning up and residents along a five mile stretch of road in Meadow Lake are upset and angry.
"They're all puppies, they are taking them up there and they are actually shooting them there, but these puppies aren't dying immediately, they're still alive when they're shooting them," said Rosemary Lebrecht.
"We go down Fence Line Road and we find animals there all the time, they've either been drugged and tortured or they're being suffocated in plastic bags and just left there to die," said Lebrecht.
Animal Protection of New Mexico is offering a $10,000 reward of information leading to the arrests of the people who are doing this and residents are keeping their eyes open. They want to catch these miscreants. They're also trying to save what animals they can.
Watch the video below for more information. There are some graphic images of dead animals and it's beyond sad.
Source – KOB
Email This Post
Like this post? Subscribe to my RSS feed and get loads more!