Puppies' Whimpering Saves Starved, Shot Momma Dog – VIDEO
Tuesday, April 15th, 2008 at 8:19 am
Against all odds, this new momma dog, a shepherd mix, abandoned, starved and suffering from a rifle blast, tried valiantly to nurse her eight newborn pups. Thanks to the luck of a farmer who stopped to adjust something in his truckbed and the loud whimpering of her puppies, she was rescued from an untenable situation.
The mother dog had been shot a day or two before, the blast shattering her shoulder and exiting through her hind legs. Her weight was down to only 37 pounds, 20 lbs under weight, and even though she couldn't walk, could barely move, she nursed her babies, eight tiny puppies weighing less than a pound each.
The good Samaritan rescued the dog and her puppies from a water ditch on a ranch on Orr Road, located between Galt and Thornton and Animal Friends Connection Humane Society got involved. A vet who was associated with Animal Friends was called and decided he could save the dog's leg with surgery rather than having to amputate.
"It was determined that her leg could be saved with surgery," said Animal Friends President Patricia Sherman. "We told them to go for it."
"All our monies are from donations or fundraising, so this will put hardship on us," she added discussing the $1,700 the surgery costs.
The momma dog underwent surgery to remove bullet fragments and install a metal plate, Sherman said. The bullet went in her shoulder and out again shattering her shoulder, which will require a metal plate. The bullet then went into her upper forearm and out again.
Momma dog, who has three names right now, the farmer who rescued her calls her Lucky,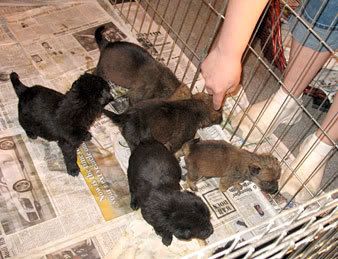 the farmer's wife calls her Lucky Lou and the veterinarian calls her Chardonnay, is recovering. Her eight puppies are being cared for by the farmer who found them until Animal Friends staff can make sure there isn't any disease that could spread to the puppies, Vigil said.
You really have to wonder what kind of a person could shoot a dog nursing puppies. Some people just think it's sport to kill just about anything and have so little regard for life that just about any living creature can be a target. Sad…. scary!
Starved, shot momma dog & puppies rescued
Email This Post
Like this post? Subscribe to my RSS feed and get loads more!