Puppy Found in Dumpster with Sock Stuffed in its Mouth – VIDEO
Thursday, February 12th, 2009 at 6:37 am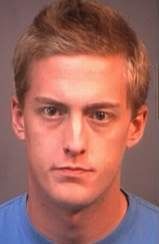 A Melbourne, FL woman was taking her trash out to a dumpster on Tuesday evening when she heard the sounds of whining coming from inside.  When she investigated, she found a little beagle-mix puppy tied inside a plastic garbage bag with a sock stuffed in its mouth.  The puppy was barely alive at the time and she called Animal Services immediately after rescuing it and removing the sock.
Brevard County Animal Services rushed the puppy to a vet where it was placed in an incubator but the 3-month-old beagle-mix did not survive.
Police in the meantime had continued the investigation and in the garbage bag they found some names and evidence leading them to arrest 20-year-old Daniel Ham, who has been charged with felony animal cruelty.
Ham, who also has a 2007 battery conviction, was booked into Brevard County Detention Center and held on a $2000 bond.
No word on whether Ham is the owner of the puppy or why he would so cruelly and deliberately kill the innocent and defenseless baby. I don't even want to try to imagine the horror and suffering that little puppy went through stuffed in a plastic bag, a sock jammed in its mouth, barely able to breathe, struggling with every ouch of effort in it's tiny body. What kind of a sick SOB does it take to do something so heartless??
Email This Post
Like this post? Subscribe to my RSS feed and get loads more!