Puppy Killer Admits to Suffocating Puppies, Pleads Not Guilty
Monday, January 14th, 2008 at 7:54 am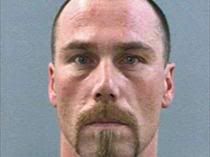 Michael Ray Howard, 35, told police that he didn't feel like taking care of fourteen puppies so he stuffed the tiny babies in a heavy trash bag to suffocate, left them outside overnight and the next day figuring them he'd accomplished killing them all, threw the bag of puppies in a Riverdale dumpster.
Only one of the 14 puppies survived the cruel ordeal,
rescued from the dumpster by an employee of the Hancock Fabric Store. The surviving Jack Russel terrier mix was adopted by Rita Woodward, a fabric store employee who found the puppies and was named 'Precious'. Precious is doing well and has already doubled her weight since her rescue.
Howard was initially looked at and questioned in the case and it didn't take too long for the police to narrow him down as a suspect. When that became the case, Howard was no longer inclined to cooperate and an arrest warrant was issued for him.
Arrested and charged, Howard, was arraigned in 2nd District Court Thursday on 13 counts of aggravated cruelty to animals, a class A misdemeanor, and a single count of cruelty to animals, a class B misdemeanor where he pleaded not guilty to the charges.
He is free on bail pending a Feb. 14 court appearance and he does have a record of theft convictions.
The actual original ownership of the puppies is still in question According to court records, Howard told police the dogs belonged to someone else whom he said "he would never identify." even though police did locate a witness who corroborated Howard's confession by confirming the dogs in the photos belonged to him.
Email This Post
Like this post? Subscribe to my RSS feed and get loads more!