Puppy Killer Gets Prison!
Wednesday, July 9th, 2008 at 7:50 am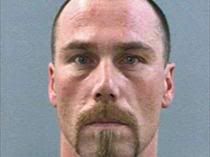 Michael Ray Howard, convicted of killing 13 puppies by tying them in a plastic bag and tossing them in a dumpster, among other crimes, has been sentenced to prison.
In December a bag containing 14 puppies was found in a dumpster outside a Salt Lake City, UT, Hancock Fabric store. Only one one of the puppies survived and has since been adopted by Rita Woodward, an employee of Hancock Fabrics and one of the women who found the puppies.
He was charged with 14 counts of animal cruelty and one third-degree felony. Initially, Howard pleaded not guilty even though he did admit he stuffed the tiny, 3-5 week old Jack Russell mix puppies, in a heavy trash bag to suffocate, left them outside overnight and the next day figuring he'd accomplished killing them all, threw the bag of puppies in a Riverdale dumpster. He changed his plea to guilty the following day.
Howard, also convicted of illegal possession of a controlled substance and an admitted methamphetamine user/addict was sentenced to serve to serve 13 years in prison for the class A misdemeanor counts of aggravated animal cruelty, six months in prison for a class B misdemeanor animal cruelty charge, and up to five years in prison for the drug charge. All sentence will run together which in reality means about a 5 year sentence and probably even less time will actually be served.
Prosecutors said the crime was committed with "extreme depravity" and noted it was a touchstone for the passage of Henry's Law, which increased the penalty for extreme cases of animal cruelty to a felony. That bill was passed by the Legislature earlier this year.
It's gratifying to see someone who acted with such wanton disregard for life to actually get a prison sentence for his heartless cruelty. I applaud Judge Roger Dutson for taking this crime seriously.
What dismays me is the comments from people that are with the news story about this.  So many people whining and griping about the sentence being too harsh and the usual 'it's only puppies, not people', stuff like that.  When are people going to realize that when anyone acts with this wanton disregard for life, even animal life, it takes little to nothing for this to carry over to violence and abuse against people.
This is a proven fact!! It's not a hypothesis.  That's just one of the reasons that people strive so hard to get animal abuse laws toughened for abusers.  People who kill, main and abuse animals need to be taken very seriously and their crimes need to be punished harshly. Get real people!  The nest time it could be your pet…. or child… when good old Michael Ray Howard gets hopped up on drugs.  Think about that!
Email This Post
Like this post? Subscribe to my RSS feed and get loads more!