Puppy Killer, Glynn Johnson, Arrested… Finally!
Tuesday, December 16th, 2008 at 10:47 pm
Update 12/23/08 – Glynn Johnson's Puppy Killing Defense – VIDEO
Finally, almost 2 months after LA Asst. Fire Chief Glynn Johnson brutally beat Karley, a 6 month-old puppy, belonging to Jeff and Shelley Toole, Johnson was been arrested today by Riverside County sheriff's deputies, charged with felony animal cruelty and was released on $10,000 bond.
Riverside County sheriff's department originally turned the case over to the DA's office on November 12 with a recommendation that they file animal cruelty charges against Johnson. Shortly after that the case was returned to investigators and now finally an arrest.
On November 3, Karley wandered over to neighbor, Travis Staggs' property. When Staggs was taking the puppy home, Johnson intervened and took the puppy from Staggs and that is when, according to Staggs' eyewitness account, that Johnson started beating the puppy without any provocation.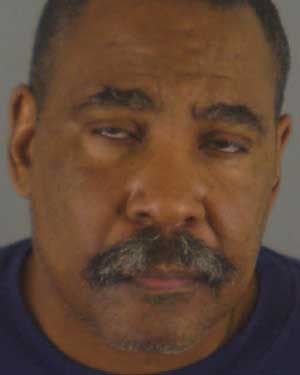 Johnson beat the puppy with his fist, pried his jaws open to the point the puppy's jaw was broken and beat it over the head with an 11-inch rock.
"He hit the dog in the face with a closed fist two times. He got on top of the dog and started beating her," Staggs said.
"At that time I ran down my driveway, ran up his, tried to pull him off and his hands were in the dog's mouth. He was trying to pull the dog's jaws apart, breaking the dog's jaws. He was prying her jaws apart and grabbed a rock and started beating her with a rock," said Staggs.
The dog was so severely injured, the Toole's were forced to euthanize him.
"I've never seen a dog come in with that level of head injury," said Dr. Howard. "I've seen pets who have been hit by cars and they were thrown by the car and suffered fractures to the nose or skull but I've never seen a case where their head was that badly damaged."
Johnson claimed he was defending himself against a vicious attack by the puppy, that Karley had latched onto his thumb and nearly bitten it off. Staggs said that he didn't see Karley bite Johnson, that Johnson's brutal beating was completely unprovoked.
A physician's assistant at the hospital said he "doubted the bite of a small dog could create enough force to cause Johnson's injuries," according to the arrest declaration.
Johnson also faces a deadly weapon allegation for allegedly using a 12-pound rock to beat the puppy and faces up to four years in prison if convicted.
The dog's owners, Jeff and Shelley Toole, said they were happy to see Johnson get arrested from their front yard.
"I'm joyful. This is what we knew he deserved. We wanted him to feel the process of being arrested like a normal citizen," Jeff Toole said. "He did this to hurt the dog and to hurt us. He's not a nice man."
Finally! Let this be just the first step in getting justice for an innocent puppy at the hands of a brutal killer.
Email This Post
Like this post? Subscribe to my RSS feed and get loads more!