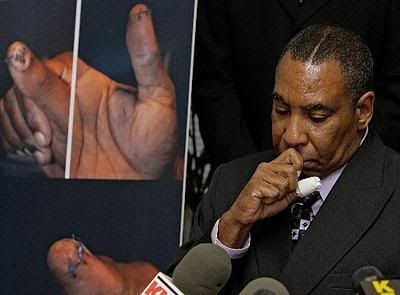 Yes, you read that right, Glynn Johnson who brutally beat Karley, the Tooles' 6-month-old puppy so brutally that he had to be euthanized, is suing the Tooles.
On Wednesday, Johnson's lawyer filed a countersuit against the Tooles seeking reimbursement for legal fees, damages for physical and mental pain, and he also alleges that the Tooles let Karley loose in his yard.
Now, when the Tooles puppy, Karley, got loose in November, another neighbor was taking Karley home when Johnson stepped in and told the young man to hand the puppy over to him, that he would take Karley home. There was no need for Johnson to step in, he was not requested to take the puppy by either the neighbor or the Tooles, who I believe were not even on the scene at the time.
So if you actually believe Johnson's story, that the puppy "latched onto his thumb," no one put him into the position but himself by taking Karley.
As for the Tooles letting Karley loose in Jonhson's yard, that s just beyond ludicrous! There was bad feelings between the Tooles and Glynn Johnson. The Tooles believe that Johnson had shot one of their previous dogs with a pellet gun and although they called the police, nothing was ever done. Why the hell would the Tooles have let their beloved little puppy out into Johnson's yard believing that?
No, this frivolous lawsuit is nothing more than retaliation. Johnson is facing felony animal cruelty charges and a deadly weapon allegation for the use of the 12-lb rock which he beat the puppy with. After he pleaded not guilty to these charges in January, he was served with a civil suit by the Tooles. This is why he filed this lawsuit.
"Mr. Johnson wants to be made whole," said Johnson's attorney, John Sweeney. "For all the pain the Toole family caused him visited back upon them. Everything they're trying to get from Glynn will not prevail."
"In this case their best defense is a good offense," the Tooles' attorney, Steve Haney said. "He repeatedly attacked and tried to kill the dog. For him to come back now and say he suffered permanent injuries — if he has any injuries at all, he brought it on himself."
Oh, and he also retired early from his job as asst. fire chief due to his injuries, saying that there was permanent damage and that he would no longer be able to fight fires due to that.  Wow, yeah, take a look at the picture, that is one serious injury!
To say this piece of trash makes me sick doesn't even come close! As if he hasn't caused enough pain and heartbreak, now this.