Puppy Mill Awareness Day Garners Huge Turnout
Sunday, September 21st, 2008 at 10:45 am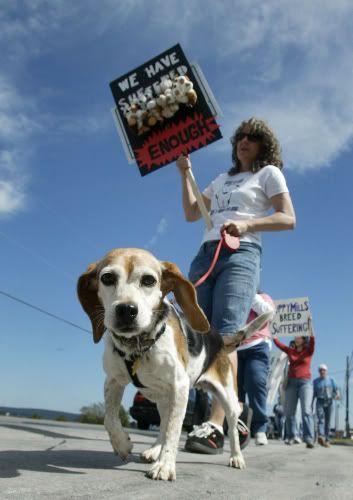 More than 800 people, plus dogs and 46 rescues and advocacy groups turned out in force yesterday in Lancaster, PA for the largest national Puppy Mill Awareness Day Rally. In its fifth year, this was more than twice the turnout of last year and more than three times the number of rescue and advocacy groups.
There is no doubt that awareness is increasing about these houses of horror.
Lancaster, PA is considered ground zero for puppy mills that sell large numbers of dogs via some pet stores and over the Internet and Pennsylvania, the 'Puppy Mill Capital of the East Coast".
With the House passage of the Puppy Mill bill, HB 2525, this week, a bill that would require large commercial breeders to clean kennels daily and provide veterinary checks and temperature controls, among other measures to make these commercial breeding businesses more humane, PA is trying to shed that title. Now HB 2525 is facing the Senate and passage before the session ends in November is far from certain.
"Please contact your representatives and make Pennsylvania a humane state," said Annmarie Lucas, a special humane investigator who appears on the Animal Planet show "Animal Precinct."
According to Kerry Flanagan, vice president of operations at the Lancaster County Humane League, between 200 and 300 licensed breeders operate here, and there are many more illicit businesses.
This country puts down 60,000 dogs every day, Bannon said, while breeders in the state make $4 million a year peddling dogs as a cash crop.
Although the feelings Saturday were overwhelmingly positive and upbeat, there is still a fight to be fought. This is no time to drop the ball and hope that things will go the right way. Each and every one of us that cares, regardless of whether we are PA residents or not, need to raise our voices and make them heard. This is not just a PA problem, this is all of our problem.
So get on the phone, write email, write letters and urge, beg and plead. Tell friends and family to do the same. You can find out who to contact and some important point to hit HERE. Don't wait till it's too late and more lives are broken and lost!
Email This Post
Like this post? Subscribe to my RSS feed and get loads more!