Loretta Parsons, who ran a puppy mill in Grayson County, Virginia has been charged with 24 counts of animal cruelty, 16 counts of no tags, and 16 counts of no vaccinations. Specifically, the animal cruelty charges allege that Parsons failed to provide the dogs with adequate water, shelter, vet care and treatment.
Dogs seized included 24 Boston Terriers and Pugs and 8 puppies. Veterinarian Donald Fincher said that the dogs were living in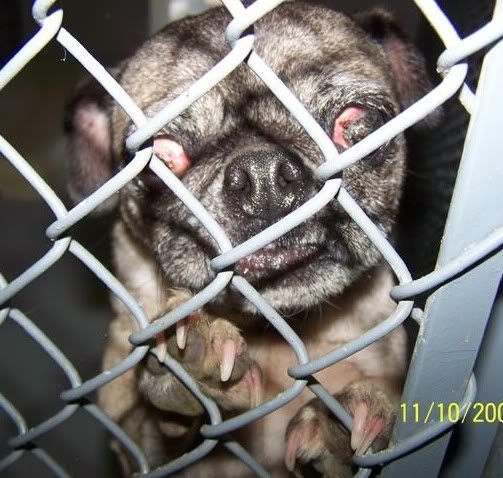 "horrible shelter conditions." Several of the dogs were blind, others had ulcers, Fincher says the puppies were pot bellied from parasites and were being fed dog food. The animals will remain at the Galax/Grayson/Carroll Animal Shelter until a judge determines where they should be placed.
Animal control authorities said she was breeding and selling the abused animals for $400 each.

"The conditions there, stated in a single word: deplorable," said Glen Richardson of the Grayson County Animal Control.

Richardson said all of the animals had medical problems ranging from tooth decay to malnourishment.

Puppies discovered on the property had parasites and had been eating food meant for adult dogs, he said.

"They were weaned too early; they were given food specifically blended for an adult and you can't do that to a puppy," said Richardson.

He said he received a call from a concerned citizen about Parsons' property.

The dogs might not have survived much longer had he not been alerted, Richardson told WXII12 News.

Parsons will be in court Nov. 19.

The dogs and puppies will likely be up for adoption if a judge rules in Grayson County's favor, Richardson said. (WXII12)