Puppy Miller Junior Horton GUILTY on All Charges!
Saturday, May 17th, 2008 at 8:25 am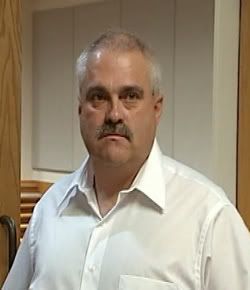 Junior Horton, owner of Horton's Pups, faced 14 counts of animal cruelty and 25 counts of neglect stemming from an investigation from last November when more than 1000 dogs were found at his property. The charges accused Horton of depriving dogs of necessary food, drink, shelter or emergency veterinary treatment, and of failing to adequately house, feed, water, exercise or care for animals in his possession. He was also charged with one count of not having a proper license. Over 700 dogs were eventually seized and adopted into new homes.
The good news is that he was found guilty of all the charges. The bad news, on the other hand, is that he will not be facing any jail time and most of the fines were actually suspended and worst of all, he is allowed to continue to run his commercial breeding business, ie. puppy mill!! More 'slap on the wrist' justice!!
After more than three hours of testimony, General District Court Judge Edward Turner made his ruling on the 40 charges Horton faced: 14 for animal cruelty, 25 for animal neglect and one for failure to obtain a dog license.

"I find Mr. Horton guilty of all counts," Turner said. "The question is, 'What do we do with it?' "

Turner suspended 12 years of jail time for the misdemeanors and suspended much of the fines associated with the criminal charges. For the 14 counts of cruelty, he suspended $2,250 of each of the $2,500 fines. For the 25 counts of neglect, he suspended $450 of each of the $500 fines. He imposed the mandated $25 fine for the charge of failing to obtain a dog license. The total for all fines amounted to $4,750. The judge also directed the court to determine a cost of veterinary services provided when hundreds of Horton's dogs were taken from his business following the sting. He said Horton will be responsible for making restitution.

Horton also was sentenced to active probation to be shared by New River Valley Corrections and Carroll County Chief Animal Control officer Terry Woods, who testified at the trial.

"I'm not going to put him out of business yet," Turner said after making his ruling. "I don't think he's a cruel man. I am going to limit his operation to 250 dogs.

"This man is going to be carefully supervised," the judge noted after making some comments to the audience in which he said "I know that anything dealing with dogs strikes a deep emotional chord. It does with me." (The Roanoke Times)
After all the pleas, the demonstrations, petitions and obvious disregard for the law, this man is going to be able to continue to reap profits off the bodies of used, abused and neglects dogs.
Even after hundreds of dogs were seized in November, he was still running his puppy mill and the conditions hadn't changed, what makes the judge or anyone else think that he's going to change now??
An of course his lawyer is going to appeal the conviction. Horton said he had invested a lot of money in his dogs and that he took care of them. He did admit, however, that he had an excessive number of dogs.
"I knew I had too many dogs," he said. "I could have sold every one of them. I lost thousands of dollars on pups I could have sold at Christmas."
Horton's case brought national attention to the problem of puppy mills in Virginia, which led to passage of legislation to crack down on the industry. House Bill 538 was adopted by the Virginia General Assembly in March, putting stiffer regulations on commercial dog breeders across the state.
The new law requires that those in the business breed only female dogs between the ages of 18 months and 8 years and have licensed veterinarians certify each year that the dogs are in suitable breeding health. It also stipulates that breeders maintain records of animal sales, purchases, breeding history and veterinary care and that no more than 50 adult dogs be kept at one time unless approved by a local ordinance after a public hearing.
I admit, I didn't except them to shut him down but I did expect something more than what he got. All these POSs care about is lining their pockets, even if no jail time, a fine of less than 5k doesn't send much of a message. Just imagine how much this guy rakes in!! He's whining about losing dogs, he should have thought about that before hand. He got off way too lightly!
Email This Post
Like this post? Subscribe to my RSS feed and get loads more!