Puppy Tortured as Witnesses Watch Horrified – VIDEO
Monday, July 14th, 2008 at 9:01 am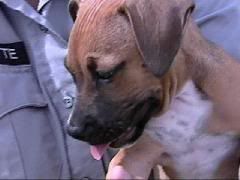 There are some severely sick and twisted people out there and 58-year-old Sabeno Martinez-Perez definitely fits that description.
Last Thursday, July 10, should have been a lovely day on Lake Broward in Putnam County, FL. It probably was until lake goers witnessed Martinez-Perez torturing a 10-12 week old five pound puppy. He kept throwing the puppy in the water, beating her and trying to drown her.
"He was taking it, throwing if off the dock, picking it back up, abusing it, throwing it back into the water," Maria Lambertt, one of the witnesses, said.
Then, when the puppy was unresponsive, he revived it, only to abuse it some more.
"He started giving it mouth to mouth and brought it back to life," Lambertt said.

As Lambertt yelled at Perez to stop, someone else called for help.

In the meantime, the abuse continued.

"Apparently, he was swinging the dog around, making it hit the pole also," said Captain Rick Lashley, with the Putnam County Sheriff's Office.

Even when the officer arrived, the Putnam County Sheriff's Department says Martinez-Perez didn't stop abusing the dog.

"As he was coming to shore, he threw the dog in the water in [the officer's] presence, and then he took it and was dragging the dog under the water as he was swimming," Lashley said.

Animal control feared the unresponsive dog would not make it.

"When I first saw her, I was very upset. She had water coming from her nose, and was somewhat in pain, but nothing was broken," said Stacy Coulliette, with Putnam County Animal Control.

A day later, the resilient puppy was playing around, much to the surprise of everyone who had seen her Thursday afternoon.

Martinez-Perez now faces animal cruelty charges. (MyFox Tampa Bay)
The mixed-breed puppy, estimated to be about 10 to 12 weeks old, is being cared for by Putnam County Animal Control.
"She seemed to be in pain. She had gurgling sounds from water being in her lungs," said Stacey Coullfette of Animal Control.
They said the puppy is already doing much better and they have her a new name: Bella.
Authorities later found out the Martinez-Perez is an illegal immigrant and have contacted Federal Immigration, he will most likely be deported.
Email This Post
Like this post? Subscribe to my RSS feed and get loads more!