Quick Update – Christine Abrams
Tuesday, October 21st, 2008 at 8:15 am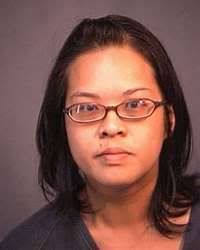 UPDATE – 12/20/08 – Christine Abrams in Jail! – You can also find links to all the background stories on this prolonged and horrific case.
Well the latest in the Christine Abrams case, which has turned into a complete debacle, will be ruled on, hopefully next week. McKibben said she expects to rule on the motions by the next hearing, a pretrial conference set for 9 a.m. Oct. 28. Her lawyer, Andrew Stine, argued that all the evidence should be thrown out because police searched the home illegally. This is just one of the latest monkey wrenches he's thrown into this case. He also wants the time frame narrowed down on when Ella was confined and died.
He also tried to have Judge Kelly McKibben removed from the case, unsuccessfully, over alleged out-of-courtroom communications with a prosecutor about incorrectly filed paperwork.
He's also trying to say that someone else may be responsible for Ella's starvation death.
"People were seen in the neighborhood coming and going but Ms. Abrams wasn't seen for quite some time," lawyer Andrew Stine said. "One theory at trial and one on appeal might be that somebody else might have been responsible for the death of this animal."
Wonder what's next on this nutcase's agenda?? Oh, and no doubt to further piss people off, he announced in front of animal rights activists protesting at the hearing that he wasn't going to be available for trial in November and December because he was going hunting, so no trial date has been set.
As horrific as this case is, Stine is actually making it worse, if that's even possible, with his courtroom theatrics and controversy. Is part of his strategy to deflect attention from Abrams to himself and anything and everything else he possibly can?
This is a misdemeanor case, not even the felony it should be and it is dragging out and dragging out. Will Ella ever receive Justice??
Email This Post
Like this post? Subscribe to my RSS feed and get loads more!