Rally – "Justice for Jamie" & eBay Auction
Saturday, December 1st, 2007 at 2:04 pm
UPDATE – See Pictures from the Rally Below
For those of you not familiar with the story of Jamie Glandon and Gabby, the puppy that was euthanized and found four days later in a Rushville, Indiana shelter freezer, alive and buried under the bodies of other dogs, please read the story HERE.
There will be a 2 Rallies on Tuesday, 12/4. One at noon outside the courthouse and the second at 5pm outside the City Council Chambers located behind the Police Department, 270 W. 15th Street.
The council meeting with Jamie is being held at 5:30pm. This is a PUBLIC meeting which is not being publicized. Those in attendance, as long as they are respectful and orderly can not be asked to leave.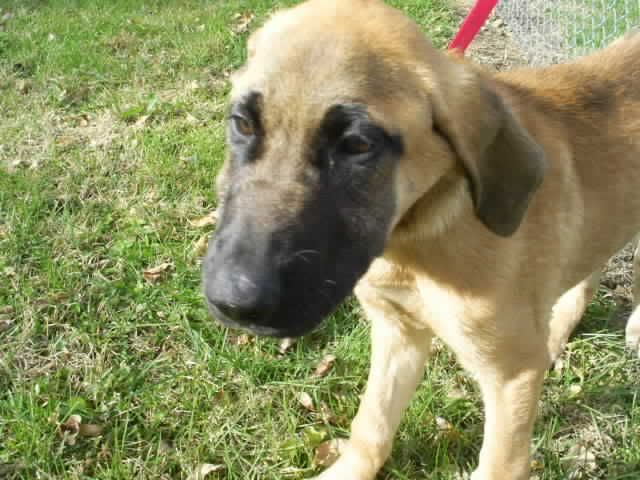 The Rally participants will gather prior to the meeting. It is imperative that this be a peaceful demonstration.
"If anyone starts egging anything or screaming profanity they will be asked to leave, or bounced out on their butt," per Linda who is organizing the rally. "We plan on the rally beginning earlier to generate support, the early part of the rally would be most effective held in front of the Courthouse. "
She also requests those coming to the rally to put a slogan such as "Justice for Jamie" on their car windows. White shoe polish is what the car dealers use for painting on windows.
As of this writing, Jaime Glandon is on administrative leave from the Rushville Animal Shelter. The shelter is shut down pending the investigation.
eBay Auction & Donations
Linda has set up an eBay auction to help raise funds for Jaime's legal expenses.
You can check it out at eBay.
For those who would just like to make a donation to help, you can do so here – Justice for Jamie
Even a dollar or two would help. Jamie took a stand and now she can use your support… at the rally… with a donation… anything you can do to help.
News Stories and More Information on Jamie Glandon and Gabby.
The Justice for Jaime and Gabby Rally
Excerpts from an article written by Linda Wissel on the Rally originally for USAP forum. For the full article – Click Here
Justice for Jamie and Gabby Rally in Rushville

My partner Teri and I rolled into town horn blaring, around 11am, windows painted "Honk for Jamie and Gabby", "Stop the Inhumane Killing in Rushville", car laden with signs, USAP donated buttons and banner, dog mascot costume. It was a sunny day but cold, we were bundled up for a long haul in the day time high of 34 degrees. I had the support of Marj and Dawn on the phone, quickly giving me advice as to what to do if the police showed up with riot gear! LOL There was a winter weather advisory posted for that night, snow was expected.
Two members from Adopt-A-Pet, coming from Cincinnati as well, were delayed a bit by problems with the donated RV.
Teri and I were the first ones there so I donned my dog mascot costume and was lead (you can't see out of those costumes) to the corner, sign in hand. I'll tell you I felt so alone until I heard Teri's voice, one lone voice, cracking as she began to shout "Justice for Jamie, Justice for Gabby". That's courage folks, at least I was under the dog costume! We weren't alone long before the crew in the RV arrived, quickly following were three member of Adopt-A-Pet out of Liberty Indiana.
Of course, one of the news stations from Indianapolis arrived right at noon when we were still setting up and not out in full force. Taylor had the sign that seems to have peeved the people in Rushville off the most, it read "Welcome to Rushville, We Kill Dogs Here….But Not Very Well". Our mascot was an inflatable Scooby Do. The USAP banner read, "Stop the Inhumane Killing at the Rushville Shelter! The United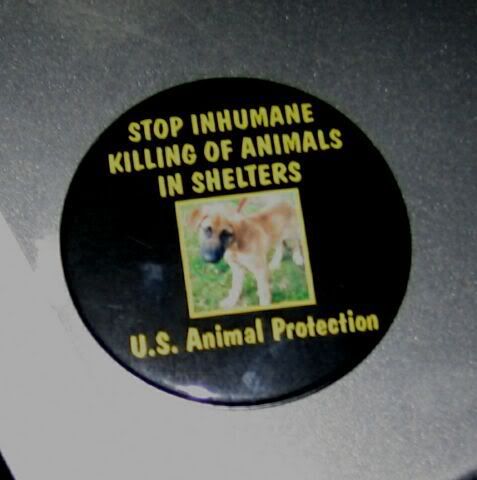 States Animal Protection Demands Justice for Jamie and Gabby!" Our USAP buttons read, "Stop Inhumane Killing of Animals in Shelters, U.S. Animal Protection". One of our signs said "Mayor Bridges, You've Been Naughty" and the person carrying it had a Santa hat on and was ringing cow bells. Some of our other signs; "Don't Kill Gabby AGAIN!", "HONK for Jamie & Gabby!", "Let Gabby Live!" Some of our chants were "Rushville….Suport Your Shelter!", "Mayor Bridges Tell The Truth!" , "Justice For Jamie, Justice For Gabby!" "Mayor Bridges, Tell The Truth!".
I guess alot of the afternoon traffic were retired folks who have known the Mayor and
thought of us as "outsiders". We had the privilege of being flipped of by an un-named, soon to be named, member of the Republican Party in Rushville. He made the mistake of bragging about it to a loyal Jamie supporter. You know who I'm talking about Marj! Lisa from Adopt-A-Pet in Liberty left to pick up her three daughters from school and then returned. Sadly, I can't tell you how many times those little girls, one of which was wearing a Santa hat, were flipped off and told to shove it in their ass.
Read more HERE
Email This Post
Like this post? Subscribe to my RSS feed and get loads more!