Reading BSL Tossed Out by Court
Friday, February 29th, 2008 at 5:42 am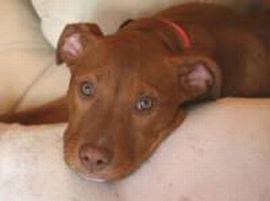 Pennsylvania appeals court earlier this week tossed out an ordinance in Reading that placed restrictions on dogs based on their breed; pit bull and others. The reasoning is that the Pennsylvania state law pre-empts the Reading law.
The divided Commonwealth Court decision sided with two pit bull owners who have fought the city's dog law for nearly eight years.

Reading's ordinance defined aggressive dogs as those that are, at least partly, of a breed that accounted for 40 percent or more of dog bite incidents in the city during the prior year.

"The absurdity was that dangerous dog breeds changed from year to year, based on the dog bite statistics _ that was the crux of the lawsuit," said Al Kauffman, attorney for plaintiffs Stacie Stankiewicz and Kenneth Steeves Sr.

Steeves' wife, Patricia, said Tuesday they felt it was unfair to have to pay higher registration fees for their pit bull, Noah, even though he has no history of aggression.

"He's just a sweetheart," she said. "And even (when) strangers come into the house, the most he would do is lick them to death."

Reading's 1998 law required that aggressive or dangerous dogs, when outside the home, be muzzled and kept on a leash shorter than three feet long with a minimum tensile strength of 300 pounds.

The law also punished violators with fines of up to $1,000 or 30 days in jail.

The law is credited with helping to reduce dog bites from 130 in 1999 to 33 in 2006. As a result, the law _ or at least elements of it _ were not being actively enforced, the Reading Eagle reported last year.

The three-judge panel was split, with Judge Doris Smith-Ribner saying the ordinance should be upheld because it was an effort to protect people and regulate care and control of aggressive dogs that did not run counter to the state dog law.

Pennsylvania's state Dog Law classifies as "dangerous" an individual dog that has attacked someone without provocation, one that killed or badly injured a domestic animal while off the dog owner's property or one that has been used to commit a crime.

Neither Charles D. Younger, the city's lawyer in the case, nor Reading city manager Leon Churchill, returned phone messages seeking comment. (Time Leader)
Email This Post
Like this post? Subscribe to my RSS feed and get loads more!