Recall Alert – Red Flannel Dog Food – Salmonella
Wednesday, August 22nd, 2007 at 9:45 am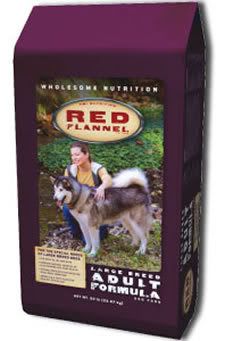 Here's another recall – Mars Petcare US Inc. initiated the voluntary recall of the 50-pound bags that were available only at stores in Reedsville and Richlandtown, Pa. The company said only three bags were sold and one bag was outstanding.
Select Red Flannel Large Breed Adult Formula Dry Dog Food 50lb
Bags Voluntarily Recalled in Pennsylvania
FRANKLIN, Tenn. – Mars Petcare US, Inc. today announces a voluntary recall of select 50 lb
bags of Red Flannel Large Breed Adult Formula dry dog food sold in two stores in Pennsylvania.
Only three bags of product were actually sold, with only one bag still unaccounted for. The pet food is being recalled because it has the potential to be contaminated with Salmonella, which can cause serious infections in dogs and cats, and, if there is cross contamination, in people, especially children, the aged, and people with compromised immune systems.
The recalled product should not be sold or fed to pets. Pet owners should dispose of product in a safe manner (example, a securely covered trash receptacle) and return the empty bag to the store where purchased for a full refund.
Recalled pet food
Product: Red Flannel Large Breed Adult Formula dry dog food
Size: 50 pound bag
UPC Code: 4286900062
Best By Date: July 12, 2008
Best By Date Location: Back of bag
Affected Stores: The stores are located in Reedsville, PA and Richlandtown, PA
Mars Petcare is issuing this action out of an abundance of caution and it sincerely regrets any inconvenience to pet owners as a result of this announcement. This voluntary recall has been issued because FDA detected Salmonella in a sample of Red Flannel Large Breed Adult Formula dry dog food with a best by date of July 12, 2008 during a recent review.
In an effort to prevent the transmission of Salmonella from pets to family members and care givers, the FDA recommends that everyone follow appropriate pet food handling guidelines when feeding their pets. A list of safe pet food handling tips can be found at:
www.fda.gov/consumer/updates/petfoodtips080307.html
This product UPC has been blocked from retail sale at these locations.
Additional information about the product is available on www.marspetcare.com. Pet owners who have questions about the voluntary recall should call (866) 298-8332, or visit the web site for more information.
Please also see the other Recall Alert from Mars Petcare –RECALL ALERT – Krasdale Gravy Dry Dog Food – Salmonella
Email This Post
Like this post? Subscribe to my RSS feed and get loads more!