RECALL – Hartz Chicken Basted Chews
Saturday, October 18th, 2008 at 7:31 am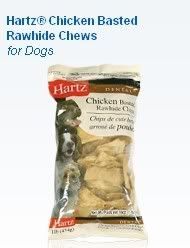 The latest recall is by Hartz Mountain Corporation for Hartz Chicken Basted Chews. due to potential salmonella contamination.
Here's the details;
The Hartz Mountain Corporation has voluntarily recalled a specific lot of its Hartz chicken-basted rawhide chips for dogs due to concerns that one or more bags within the lot are potentially contaminated with Salmonella.

The company announced the recall Friday, saying the two-pound plastic bags of chips with lot code JC23282, UPC number 3270096463 were distributed to a national retail customer it did not identify.

Hartz said the normal testing it conducts through an independent outside laboratory did not detect the presence of Salmonella in any of its rawhide products, but sample testing conducted by another laboratory did indicate the presence of the bacteria in a single bag of the chicken-basted rawhide chips.

Salmonella can cause serious infections in dogs and _ if there is cross-contamination caused by handling of the rawhide chips _ in people as well, especially children, the aged, and people with compromised immune systems.

Hartz is investigating the difference in test results and the potential source of the problem. It said there have been no reports of any animals or humans becoming ill. (Newsday)
Email This Post
Like this post? Subscribe to my RSS feed and get loads more!