Reporter Turns Sleuth, Widow's Heartfelt Plea Brings Stolen Dog Home
Thursday, June 7th, 2007 at 8:51 am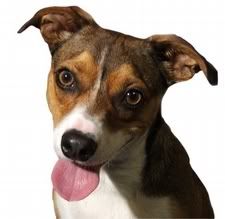 "My little brown-and-white beagle/terrier mix dog was my only reason to live," 80 year old Lillian Brown wrote. "Please bring my little buddy back to me."
Lillian found the 2 yr old terrier mix at a shelter shortly after her husband of 48 yrs passed away followed by the loss of her 16 yr old dog just month later. She fell in love with those bright eyes and cute little face immediately.
"He more or less picked me out," Brown said by phone Tuesday. "He climbed the doggone cage, wagging his tail and crying."
Lillian lives in a tiny mobile home in Apache Junction outside Phoenix. On April 3, as she often did, she allowed Bobby to stay with some neighbors, Keith and Cheryl Angerbright, when she went to an appointment. When she returned home, Bobby was nowhere to be found. The neighbors assured her that Bobby was returned to her trailer.
Bobby was gone and Lillian was devastated. She put ads in newspapers, plastered fliers around and even slept on her porch for days, unable to eat or drink. She made promises to God if only he would bring her little Bobby back home to her and she wrote a heartfelt letter to the Apache Junction newspaper. And she was suspicious of the Angerbrights who had in the past offered to buy Bobby from her.
Jill Jones, a reporter for the Apache Junction was so touched by Lillian's letter that she did a story on the missing dog but it didn't stop there. Jones, a self avowed animal lover, was intrigued by the neighbors, especially by the fact that they had recently moved to Indiana so she decided to do some sleuthing on her own. She tracked down the Angerbrights and sent letters and pictures to their neighbors asking if they had seen the dog. Shortly thereafter she got a response back. The dog was there, still being called Bobby who the Angerbrights claimed was a stray they found in Phoenix.
Fort Wayne police were called in, contacted the Angerbrights and determined the dog was indeed the stolen Bobby. Apache Junction police are filing felony charges against Cheryll Argerbright for theft of the dog. Bobby was taken to Fort Wayne Animal Care and Control early Monday where her was microchipped for permanent ID and Continental Airlines is flew Bobby to Arizona free of charge yesterday to be reunited with Lillian last nite.
Lillian is awed at Jones' generority and tenacity at tracking down Bobby for her, "You better believe I'll never forget her," she said. "I don't know if I can ever repay her."
Check out the Slideshow!
You just gotta love happy endings!!
Sources – Fort Wayne Journal Gazette, The Arizona Republic
Email This Post
Like this post? Subscribe to my RSS feed and get loads more!