This is 21 year old Kimberly Sanchez of Newbury Park, CA and her 10 month old adopted Dutch shepherd, Joey. On September 28, Joey saved Kimberly's life.
Since the age of 15 Kimberly has suffered from iron-deficiency anemia and although she had grown accustomed to feelings of fatigue and dizziness over the years, she said the stomach pain, tingling sensations and nose bleeding were something new.
In the early morning hours on that fateful September day, Kimberly was not feeling well, unable to sleep due to vomiting and abdominal pains. She began to get a tingling feeling in her hands and feet and her nose started to bleed. Alone in her home except for Joey, she collapsed into unconsciousness.
"The next thing I remember is my dog, Joey, licking my face and my ears and yelping and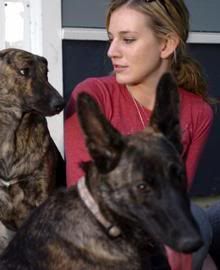 barking. She was walking around me and making a lot of noise," Sanchez said.
She believes that Joey's behavior roused her to a waking state, making it possible for her to call her stepmother, who took her to the emergency room. At Kaiser-Permanente Medical Center in Woodland Hills, Sanchez was placed on intravenous fluids and stabilized.

According to Sanchez, emergency room doctors told her that her blood was not clotting, her red cell count was very low and a sudden plunge in blood pressure caused her to faint.

Worse, if she had not awakened when she did, and had fallen into a deeper state of unconsciousness, "blood could have accumulated in my throat and I would've choked to death," said Sanchez.

Sanchez, who works for a Westlake Village executive recruiting company, has been battling iron-deficiency anemia since she was 15. While she had grown accustomed to feelings of fatigue and dizziness over the years, she said the stomach pain, tingling sensations and nose bleeding were something new.

She is now under a physician's care for the condition.

"When I got to the house, she was collapsed on the floor," said Maria Sabados, Sanchez's stepmother, who lives about 20 minutes away.

"We put a towel around her face and it was soaked in blood. I practically had to carry her to the car," Sabados said. "It's frightening to think about what would've happened if the dog had not been there."

The chain of events that brought Sanchez and Joey together began in the streets of downtown Los Angeles in March, when Joey was 3 months old.

A security guard spotted stray puppies darting in and out between cars.

He managed to catch three of them and contacted Judy Crozier, an animal activist and independent filmmaker based in Los Angeles.

Crozier brought the puppies home and cared for them. When they reached their normal weight and were given a clean bill of health, Crozier put photos of them on her pet adoption Web site.

Coincidentally, Sanchez had just begun an Internet search for a dog she could adopt. When she saw Joey's picture, she was smitten.

She contacted Crozier, filled out the required adoption paperwork, and brought her rescued dog home.

"And now, Joey has returned the favor in a way I could not have imagined," Sanchez said. "I'm in awe of her." (Ventura County Star)