Rescued Pitbull Hero Saves Man from Blazing House Fire
Monday, September 22nd, 2008 at 9:00 am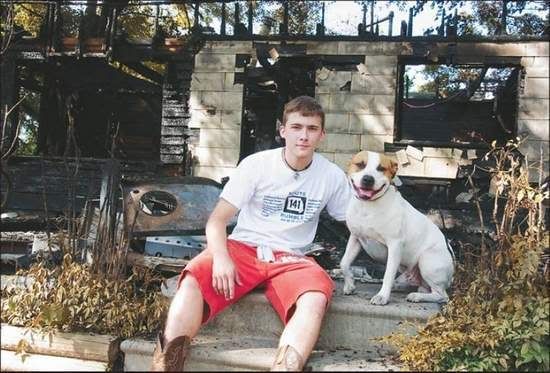 Jacob Ford, 20, of Poplar Bluff, MO, says he never really paid much attention to Butch, a pitbull owned by his mother's boyfriend. Now Jacob owes his very life to Butch, his new best friend.
Last Friday afternoon Jacob was sleeping as smoke filled the house. He was awakened by Butch's whining and knew immediately something was wrong.
"As soon as I stood up, I had smoke in my face," he said.
He grabbed the fire extinguisher but it was quickly apparent that he would have no chance against the fire so he left the house. He called the fire department and his mother then looked for Butch who saved his life. The dog was no where to be found.
Jacob rushed back to the house, "I went to the top of the stairs twice," Ford said. "I was yelling for Butch at the top of my lungs, but he didn't respond. That's when I figured he was probably gone."
The Butler County fire department showed up to battle the blaze and finally found Butch huddled in the basement where he went for safety.
Tina Mobley, Ford's mother, said the dog apparently lost a lifelong fear of basements while attempting to wake her son. Butch, she said, had been abused as a puppy before she purchased him with "the last $52 I had on me."

The dog, Mobley said, had "only been in that basement one time up until that day," because he was terrified of the place, having been kept locked in one as a puppy. (SE Missourian)
Mobley spent a great deal of time raising and training Butch after she rescued him but there's no doubt that he has paid her back more than she could have ever imagined.
"He's a pretty heroic pit bull," she said. "That's the best $52 I ever spent in my life. If it had not been for that dog, there's no doubt in my mind my son would have died."
As for Butch, a little singeing on his muzzle was all that marked his efforts but he does seem to have regained his fear and wariness again.
"He doesn't want to be left alone now," said Mobley, "because he's scared all over again."
Jacob said he's going to help Butch with that, starting with a nice steak dinner for his new best friend.
Yet again a dog shows us he is man's best friend and this dog, a pitbull, the most maligned of breeds and horribly abused to boot. They show us every day their unconditional love and forgiving nature.
So this one is for all you pitbull haters and BSL proponents out there.
Email This Post
Like this post? Subscribe to my RSS feed and get loads more!