Reward Offered in 'Execution-Style' Killing of Dog
Friday, September 21st, 2007 at 8:09 am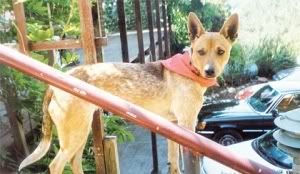 Ruby, a friendly, 5 yr old red merle Australian shepherd who belonged to Sundai Martin and her husband, Caesar Ramirez, went missing on Tuesday night. Martin and Ramirez, who operate Henfling's Tavern in Ben Lomond, looked for their beloved dog, making 'Lost Dog' posters of Ruby wearing her red bandanna, but sadly all their efforts were too late.
Ruby's body, collar and tags intact, was found shot dead on the side of Highway 9 near Brackney Road about 5 pm by a Caltrans litter crew. According to Animal Services officer Todd Stosuy she was the apparent victim of a "gang execution-style killing." She had been shot once in the head with a small-caliber gun, but had no other injuries.
"Our dog was murdered," said Sundai Martin. "This was a dog. This was our pet. This person literally took a handgun and shot her right between the eyes."
Martin and Ramirez are worried that an "unsavory character" from Hefling's, perhaps someone that Ramirez has thrown out of the bar, killed Ruby in retribution. The friendly dog was could often been seen at Hefling's since Martin and Ramirez took over about two years ago.
Ruby's death is being investigated by Animal Services as an animal cruelty case but when found, the killer could also be charged with unlawful discharge of a firearm.
Martin and Ramirez have offered a reward for information leading the the arrest and prosecution of the killer of their beloved dog. Stosuy asked that anyone with information about Ruby's death call Animal Services at (831) 454-7254.
Source – San Jose Mercury News
Email This Post
Like this post? Subscribe to my RSS feed and get loads more!