Save Congo! We Need to Act NOW! PETITION
Wednesday, March 26th, 2008 at 8:50 am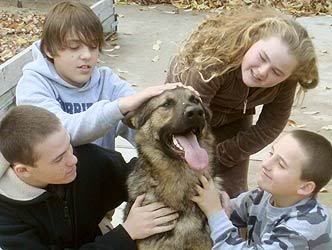 Many of you know the story of Congo the German Shepherd from Patterson, NJ.
Congo was sentenced to death for doing what he felt was the right thing to do, for protecting his pack, his family. While waiting for the appeal he was allowed to go home with his family under many restrictions but now the time has come to do everything we can to save Congo!
His life is still in danger, this has not passed. His appeal will be heard on April 4 by the same judge, Ostrer, who allowed Congo to go home with his family, the James' during his appeal after his death sentence by Municipal Court Judge Russell Annick.
Now is the time that we MUST ACT! Many of you have been waiting and asking for updates, wanting to know what you can do. Well here it is and there's no time to lose.
We need to get letters to Judge Ostrer right now. Actually letters will have the most impact so we have to flood his office and we only have a few days to do it!
Please write Judge Mitchel Ostrer, polite and professional, letters of support for Congo.
Judge Mitchel E. Ostrer
Mercer County Courthouse
209 South Broad & Market Streets
PO Box 8068
Trenton, NJ 08650
Mention in your letter or phone call that he needs to take into consideration that the laws are old and they don't take in to consideration how the dog perceived the threat. Also, there is no case law out there in NJ that has interpreted the statutes. This is the first one. Another point to use is that the last case of a dog attack was back in 1994 and the Governor then, Christine Whitman, had pardoned the Akita and he was exiled from the State. This is a last resort option so we can keep him alive.
We can follow up our letters with phone calls early next week. The number is 609-571-4188.
We also need to keep hammering on the Governor to pardon Congo. Please contact Governor Jon Corzine at 609-292-6000. You can also email him at: http://www.state.nj.us/governor/govmail.html and where is says- Select a Topic choose- "Law and Public Safety" and select a Sub-topic, choose- "Pardons and Clemency" and fill in your information to send a note to him. You don't have to live in New Jersey to call or email the governor.
Also please take a moment to sign the petition
The Deputy First Assistant Prosecutor Doris Galuchie is arguing that Congo's reaction was not what would have been expected by a normal dog but if you can imagine Congo's thoughts, he saw his mistress grabbed and dragged to the ground and heard her scream. Any dog with protective instincts is going to go into a mode in which he will do whatever it takes to get rid of what he sees as the threat. It is a normal reaction, Congo was protecting as he knew how. He should not die for this!!
You can read the full news coverage from Time of Trenton HERE.
You can find all the posts and news coverage that I have HERE.
Please, help to get the word out quickly!! Post this in any groups, forums, blogs, MySpace. Our time is very limited and we need to get letters to the Judge to let him know the eyes of the country are on him and we support Congo and the James family.
Please use the email icon below the story to share the story with friends, family, anyone who can take a moment to write a letter or help to get the word out. There is also a icon to 'Blog this Post' which will give a link back so you can share the story. Please, please, please… help, share, get the word out ASAP!!!
Email This Post
Like this post? Subscribe to my RSS feed and get loads more!