Search for Drugs Yields Dead, Mutilated Dogs – VIDEO
Friday, November 21st, 2008 at 9:43 am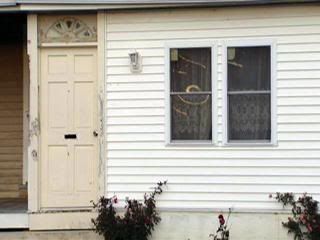 Update 8/31/09 – Update on 2 Miscreants that Killed a Dog with a Chainsaw
When police hit the house on Chester Avenue in Coatesville, PA on Saturday, they expected to find drugs and they did, but they also found a lot more than that! Laquanta Chapman, 29-yrs-old, waiting with two loaded guns, a bullet-proof vest and a gruesome, bloody bag sitting on the dining room table in the home.
Inside the bag was the mutilated remains of a dog that had been beaten, shot and dismembered with a chainsaw. And the dog in the bag isn't the only one to have faced such a cruel fate.
Chapman also told police that earlier in the week he killed another dog with a shovel and put it out in the garbage to be picked up by trash collectors.
"He admitted to killing the animal by beating it with a blunt object. And then once the animal was dead, he said he went on to shoot the animal several times and then dismember the animal," said Chuck McDevitt of the Chester County SPCA. "It was a pretty gruesome scene. There was also blood apparently all over the house."
LaQuanta Chapman, 29, allegedly told police that he had beaten the dog with a blunt object and cut off one of its legs, then, after it was dead, he and several others shot it multiple times with a .22-caliber gun.
"When you see a situation like this where it's not an even playing field and where you've got an innocent creature that's at the mercy of a person and this is the way they treat them and then to discard them like trash, it's just absolutely horrendous," said McDevitt.
Police said Chapman and his friend, 19-year-old Bryan Byrd, have both been charged with killing or maiming a domestic animal, abuse of a corpse, drug possession with intent to deliver and firearms violations.  Dogfighting charges may be added to that list of charges as well after more investigation.
District Judge Jeremy Blackburn said he was "frightened" that Chapman apparently waived his Miranda rights and told police that he had killed and mutilated the dog. He said Chapman seemed to think such behavior was acceptable.
According to court records, Chapman has a long history of drug and weapons offenses. As a convicted felon, he is not allowed to own or possess firearms.
The two suspects are being held on $100,000 bail. A specialist is examining the dog to see if there is evidence it had been involved in fighting.
Email This Post
Like this post? Subscribe to my RSS feed and get loads more!