A Suffolk couple looking for their little Shih Tzu that went missing on Saturday, found it… fleshly clipped and for sale for $350 on an Internet pet site.
A neighbor of the Shih Tzu owners reported seeing someone in a truck with "Lucky Fund" written on it coax the dog into the vehicle but when questioned by the police the driver said that she was retrieving a dog that had escaped from her backyard.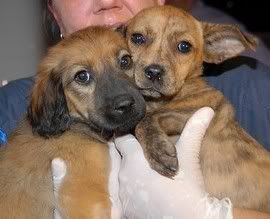 An investigation into the missing dog led Long Island police to a house at 3298 Rte. 112 in Melford where they found more then 50 dogs, some in need of medical help, some malnourished, even mothers nursing puppies,  living in deplorable conditions.
Dog after dog, puppy after puppy were removed from a small Medford home. On Wednesday night, SPCA officials were in emergency response mode. They say rescued the
animals from deplorable conditions.

SPCA officials say there were at least 50 dogs packed into the home. And Suffolk County investigators tell us they were surviving, in the heat, without water and surrounded by filth.

There's no telling how long the animals had been here. Authorities say many are sick and in need of attention. (7EyewitnessNews)
Karen Schleich, 45, and David Bernacchi, 44, who said they lived in the house, were arrested and charged with animal cruelty, police said. Schleich was also charged with criminal possession of stolen property — a Shih Tzu that a Long Island couple said went missing on Saturday.

Police were trying to determine whether any of the other animals also had been stolen.

They also arrested Kristin Beauchesne, 25, of Shirley, on a charge of grand larceny. Beauchasne was arrested after a witness reported seeing her take the Shih Tzu from the street on Saturday. She told a police officer who stopped to question her that the dog had escaped from her backyard, police said. (FOXNews)
Beauchesne, of 214 Floyd Road, an employee of Bide-a-Wee animal shelter in Westhampton, was charged with grand larceny for allegedly stealing the dog in East Speonk, police said.
Bernacchi ran a dog rescue organization called Lucky Fund and a message on the Lucky Fund Web site states the mission of the company is "to help and place as many dogs as possible with new and loving families."
Friends and neighbors say that Bernacchi loves and protect animals and would never do anything to hurt them but said Roy Gross, chief of the Suffolk County Society for the Prevention of Cruelty to Animals said the house was in deplorable condition and the dogs were not being properly cared for.
All the dogs taken from the house will be put up for adoption.
The three suspects are being held in custody and will appear in court today.