Six Month Old Puppy Set on Fire – VIDEO
Wednesday, May 7th, 2008 at 7:00 am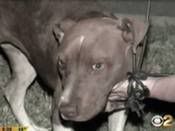 Someone set a six month old puppy on fire in a Lancaster neighborhood in CA and the quick thinking of a resident who heard the painful and panicked yelping of the puppy saved her from worse injuries than she received.
Authorities are asking for the public's help in locating a suspect who deliberately set a dog on fire in Lancaster late Monday night. The badly burned dog is currently being treated at a Lancaster animal shelter and the Los Angeles County Board of Supervisors Tuesday offered a $5,000 reward in hopes of finding the assailant.

Sheriff's deputies were dispatched to the 300 block of East Lingard Street near Foxton Avenue shortly after 11:30 p.m after receiving a call from a neighbor, Lt. David Oliva of the Los Angeles County Sheriff's Department's Lancaster Station said.

A woman at the scene said that she and her stepson heard horrible yelping sounds, went outside and saw that a dog had been set ablaze in the front yard of the vacant house next door.

While totally engulfed in flames, the dog — a pit bull mix — started running in circles in the street. The woman then ripped off her jacket and threw it on the dog to put out the flames, Oliva said.

Six Month Old Puppy Set on Fire

The dog, which is about 6 months old according to the AP, survived but suffered burns to the head, stomach, rear right leg and paw.

Deputies took the injured dog to the Los Angeles County Animal Shelter in Lancaster, Oliva said.

Residents told deputies that they did not know who the dog belonged to and did not see who set the dog on fire, Oliva said.

News of the abuse quickly spread, and area residents have already started making offers to adopt the dog, according to the camera crew.

The assailant will face felony animal cruelty charges, according to a sheriff's deputy.

Anyone with information on the attack was urged to call the sheriff's Lancaster Station at (661) 948-8466. (CBS2)
Although I've seen stories like this far to often, I will never understand the mentality of the kind of person who gets their kicks and thrill from hurting defenseless and innocent animals! Does it make them feel powerful and strong? What about when the thrill of hurting animals isn't enough anymore, who will be their next targets? God help up with these kinds of degenerates as part of our society!!
Email This Post
Like this post? Subscribe to my RSS feed and get loads more!