Slain Solder's Family Try to Bring His Puppy Home
Wednesday, May 9th, 2007 at 10:55 am
I feel so sorry for the families that have lost loved ones in the military but for this one family, a part of their loved one will live on in the puppy he befriended and will give his family some measure of solace.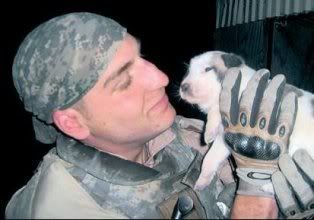 On March 5, 2007, Spc. Justin Rollins was killed in a roadside bombing in Iraq.  The day before he "stumbled upon a litter of puppies near an Iraqi police station in Samarra. His soft spot for dogs had been revealed on a previous deployment to the Gulf Coast, where he rescued a dog abandoned in the aftermath of Hurricane Katrina. A friend snapped a picture of Rollins snuggling with a female pup."
This picture of him with the puppy reached his girlfriend just hours before she and his family were notified of his death.
His family dubbed the puppy 'Hero' and now they are trying to bring 'his' puppy home which is no easy task.
Rollins' father said the puppy is a link and reminder of his son. "We saw the picture just about the time we found out about his accident over there," he said. "You see the joy in his eyes in the picture. You see how happy he was."
"Seeing the pictures of Justin with that puppy, and knowing that he was happy the day before he died, it was like a gift from God," his mother said.
Yesterday, Sen. Judd Gregg, R-N.H., received a letter from Army Col. Gary S. Patton.
"United States Central Command has authorized Coalition Forces to transfer the puppy to Specialist Rollins' family in the United States," Patton wrote. "Arrangements are now being made involving veterinarians, shipping companies and military dog handlers to safeguard the dog, vaccinate it and prepare it for shipping."
"We are cautiously optimistic," said U.S. Rep. Paul Hodes, D-N.H. "Hero still has a long way to go. My staff and I are working with the Rollins family, Brittney, Justin's fellow soldiers and DHL to bring him back to New Hampshire. Given the sacrifice that the Rollins' made for our country, the least we can do for them is cut some red tape and provide them with this bit of comfort."
For more on this story, please check these out – Fallen soldiers' dog a little closer to NH and Puppy on way to new home 
Email This Post
Like this post? Subscribe to my RSS feed and get loads more!