Slain Soldier's Dog, "Hero', Finally Going Home
Thursday, May 24th, 2007 at 8:10 am
'Hero', the puppy that Spc. Justin Rollins found just the night before he was killed in Iraq,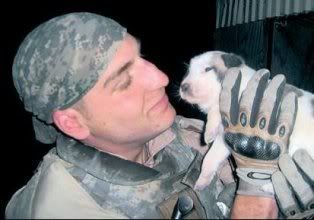 that I told you about in Slain Solder's Family Try to Bring His Puppy Home, is finally going home!
Hero the dog is due to arrive tonight at John F. Kennedy International Airport in New York, its last stop on the way to Concord, a spokesman for Rep. Paul Hodes said. Staffers for the Democratic congressman hope to unit the mongrel puppy with its new family tomorrow afternoon.

Hero's long journey from Baghdad to the United States went through Bahrain last night, according to Kenny. From there, she said, it's on to Dubai, and later, Brussels, Belgium.

There will be more delays once Hero arrives in New York, she said. First, the dog will have to endure a veterinary exam. She'll spend the night in customs before a driver with DHL, the shipping and logistics company, can take Hero to New England.

As planned, Kenny said, a second driver will pick Hero up in Massachusetts and take her the rest of the way.

"It's been quite the logistical feat," she said.

Hero is expected to arrive at Hodes' Concord office between 2:30 p.m. and 3 p.m. tomorrow, weather and traffic permitting. (Union Leader)
Yesterday was a memorial service for Rollins and his fallen comrads and tomorrow Rollins' puppy comes home. Emotions have been running high for the family and Rollins' girlfriend, Brittney Murray.
"We're overwhelmed but very excited she's getting here," Murray said. "It's a stressful week, but it'll finish our week off on a really positive note."
The puppy has grown quite a bit and no one may ever be able to identify the dog's breed.
"We just call her an Iraqi puppy," Murray said. "That's what we're getting."
Email This Post
Like this post? Subscribe to my RSS feed and get loads more!