Spc Justin Rollins' Little Hero Dog Home
Saturday, May 26th, 2007 at 5:30 pm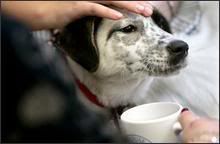 A little Iraqi Hero is finally home! 6000 Miles, tons of red tape and almost 2 month later, the family of slain paratrooper, Justin Rollins, finally hold Hero, the little puppy he found the last night of his life, in their arms.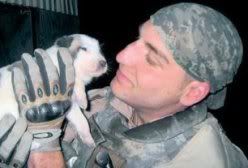 When I first wrote about it, Hero was barely more than a handful and was still nestling with Sgt. Jason Wheeler, Justin's friend, who was taking responsibility for her until the wheels could get moving to get her home.
Hero's circuitous route from Baghdad to the United States went through Bahrain to Dubai to Brussels, Belgium finally arriving Thursday night at Kennedy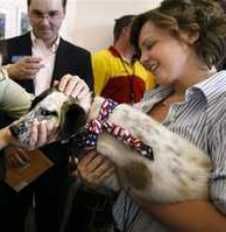 International Airport in New York. After a visit to a vet she was finally off to New Hampshire.
Picture here you see Brittney Murray, Rollins' fiance, holding the puppy. Rollins had planned to ask Murray to marry him on his next trip home but alas that was not to be.
"It was the last bit of happiness Justin had," Murray says of Hero, the puppy that connects the family to one of the soldier's last happy moments.
The floppy-eared pooch – mostly white, with brown spots along the right side of its muzzle and paws still too big for its 15-pound body – was a hit Friday as she sniffed around Hodes' office, pausing to piddle on the carpet.

Whether the mixed-breed puppy is definitely the one in the photo didn't matter. Several people claimed credit for the dog's name, but everyone agreed it was a fitting tribute to Rollins, whose parents said he was always an animal lover.

"We have a dog and three cats at home. When he was little, they all were on his bed," said his mother, Rhonda.

Rollins was buried in Arlington National Cemetery with a baseball signed by Red Sox player David Ortiz, who met him last summer shortly before Rollins' unit was deployed.

"He really did believe in what he was fighting for," Rhonda Rollins said of her paratrooper son. "I think he'd be thrilled there was a positive story from the negative thing that happened to us. … He was such a happy-go-lucky guy." (KansasCity.com)
It brought tears of joy two days ago when I found out that Hero was finally going home and now to see the happiness she has brought to this family who is still devastated by loss is truly a touching sight!
Email This Post
Like this post? Subscribe to my RSS feed and get loads more!