When she was found running loose in mid-August, the Doberman Pinscher, then named Sheba,  weighed in at only 28 lbs.  She was basically a skin covered skeleton.
"This is one of the worst cases of neglect I have seen," said humane society Executive Director Meg Stephenson. "Every bone in her body was visible. No animal should ever have to suffer like that."
What a difference a mere three months have wrought.  Sheba has been renamed Bella, which means 'beautiful' and she lives up that name!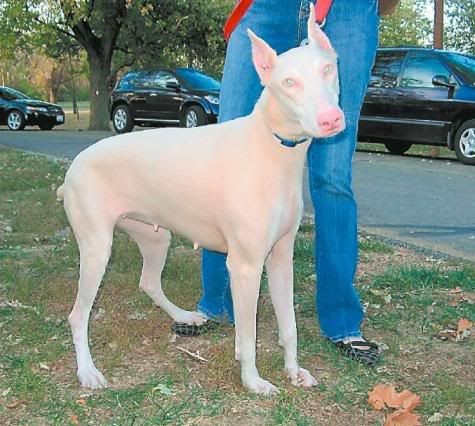 Bella had been in the loving care of a foster family, who wish to remain anonymous, since she was rescued and their attention, love, support and care of her brought about some wonderful changes.
"Her personality started to shine and she gobbled her food less, as she realized we were going to love and provide for her," said the volunteer. "We are so happy she is in an amazing forever home."
Now up to a much more respectable 49 lbs, Bella has recently been adopted and now lives with lives with Aurora Milot in Millville.
"She's a diva," said Milot, who adopted Bella as a companion for her other rescued dog, Maggie. "They just run around and around this house."
Now, in her new home, Bella is showered with love and companionship, and she's also decked to the nines with her own collection of sweaters and sunglasses. She is worlds away from the horrific life she once lived.
And the woman who owned her previously, Reita Huff? Well, she was charged with two counts of cruelty to a companion animal, failure to confine and failure to obtain a county license and her pretrial is scheduled for Dec. 1 in Middletown Municipal Court.
Huff has previous animal cruelty violations on her record and we can only hope the judicial system will see fit of give her what she really deserves, a stiff penalty for her cruelty but I no longer hold out much hope for real justice.
In this case though, there is much to be thankful for as you look at the amazing transformation from Sheba, cruelly starved to skin and bone, to Bella, a sweet 'diva' girl who lives up to her name in every way!