Starved Dog Tied to Railroad Tracks, Reward! – VIDEO
Wednesday, October 15th, 2008 at 5:34 pm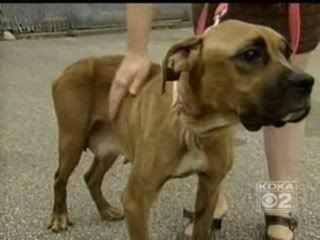 An emaciated female Boxer was found tied to the middle of railroad tracks near Hawkins Avenue and 4th Street in North Braddock, PA, and if not for the luck of an engineer in a passing train seeing her and notifying the police, this story would have a much different ending.
Choo-Choo, as this sweet girl has been named, is recuperating at the Western Pennsylvania Humane Society and already stealing hearts although she does seem to be leary around men.
"We have her hanging out in some of the offices and getting a lot of loving. She's definitely glad to be inside," Lee Nesler, executive director of the Western Pennsylvania Humane Society said.
When found, Choo-Choo was starved and there was evidence that she had been eating dirt for want of anything else to eat.
"She's emaciated," she said. "She's basically just skin over bone."
She also looks like she recently gave birth although there was no evidence of puppies anywhere. Whoever abandoned her to death may have kept the puppies to sell or I hesitate to think what else may be the case.
Once Choo-Choo is recovered she will be available to be adopted but in the meantime authorities want to find whoever deliberately tied her to the railroad tracks and there is no doubt this was done intentionally. A $500 reward is being offered for information.
Someone knows who did this. Someone saw this dog. It would take someone very callous and coldhearted to starve this dog who had recently had puppies then take her and leave her to die. Anyone with any information can call 412-321-4625.
Dog Tied to the Railroad Tracks
Email This Post
Like this post? Subscribe to my RSS feed and get loads more!