Still No Justice for Brutally Tortured & Killed Dog, Daisy Duke
Saturday, June 28th, 2008 at 9:14 am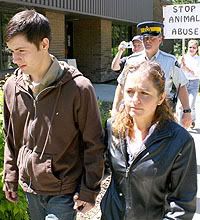 Sentencing for Admitted Dog Killer, Daniel Charles Haskett, Postponed Again as He Decides to Change his Plea!
Almost two years after the brutal torture and death of Daisy Duke, a sweet lab mix dog in Didbury, Alberta, Canada, justice has been delayed again! Daniel Charles Haskett, 20, who admitted to the brutal torture death of the dog, along with another young man, pleaded guilty in May 2007 to one count of animal cruelty and one count of obstruction of justice for initially lying to police over his involvement in the crime.
The crime, which took place on October 8 2006, is a lesson in cruelty and brutality. Supposedly, Haskett's 17 year old friend ran over Haskett's family dog, Daisy Duke. Fearing he would lose his license and get into trouble with Haskett's mother, they decided to kill the dog, drag her out of town and say that she'd run away.
Daisy was found by passersby after the rope the men had tied around her neck to drag her broke. She had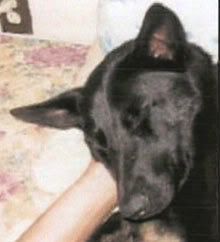 her muzzle taped and all four legs duct taped together, a plastic bag over her head, she'd been beaten with a shovel, tied behind a car and dragged, run over a second time which is how the rope broke, her neck, back and pelvis were broken… all in an attempt to kill her. When she was found, the poor dog was still alive, grievously injured, in unbelievable pain, but still alive, even if just barely. She was euthanized on scene by a veterinarian.
This crime galvanized Canada and brought to the forefront the inadequate and outdated animal cruelty laws. More than 100,000 signature were collected on petition calling on the federal government to strengthen federal animal cruelty laws.
The second young man involved in the crime, who at 17 did not have his name released, pleaded guilty to a charge of animal cruelty, he was given two years' probation, three months' house arrest and ordered to perform 240 hours of community service. His sentence shocked and outraged the community but regardless of whether the punishment fit the crime, and there's no way anyone can say it did, he admitted his guilt and took his punishment. He got it over and done with.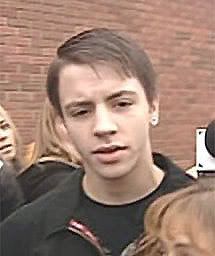 As for Haskett, there have been delays on top of delays and now there's yet another one! Daniel Charles Haskett has decided to change his plea from guilty to not guilty and wants to face trial.
"I entered a guilty plea because I wanted to receive whatever punishment I was going to get and move on, and to have closure for this portion of my life," he told defense lawyer Alan Pearse.
"During this episode there has been a continuous amount of harassment against me and my family, including death threats, hate mail, commands to leave the community," Haskett said.
"I was assaulted and someone fired a bullet at me while I was at home with my mother and I just don't want to deal with that anymore."
Oh boo hoo!! Sorry, but it's pretty hard for me to work up any sympathy for this piece of trash! What a waste of human life! He inflicted incredible torture and suffering on a living, breathing, innocent creature and now want sympathy! Where was his sympathy as he beat, tortured and brutalized Daisy Duke??
The worst penalty he's going to get is six months in jail and a $2000 fine. Considering his crime and what he's put everyone through, this is nothing!!
DANIEL CHARLES HASKETT ON WHY HE WANTS TO GO TO TRIAL NOW
But Haskett disputed some of the grisly facts he initially acknowledged, including using a tow rope to secure a garbage bag around the dog's neck and discussing with his friend how best to dispose of the body.
"I know it's not legal to inflict any unnecessary injury, or pain on an animal and that, of course, was not my intent," he said.
Crown prosecutor Gord Haight argued Haskett's application to withdraw his guilty plea should be rejected.
He told provincial court Judge Ian Kirkpatrick there's no way to tell whether Haskett is lying now, or then, and he entered his plea with competent legal advice.
While contrite in court, Haskett was a little more surly both arriving and leaving the Didsbury court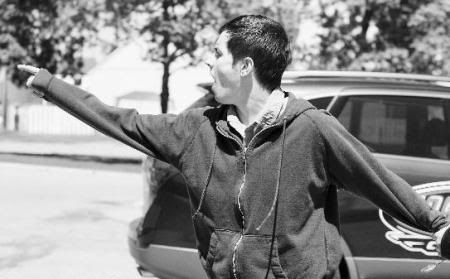 house.
As he walked in, he shoved a female television cameraoperator and then engaged in an expletive-laced exchange with animal rights hecklers as Mounties escorted him to his mother's car.
At one point protester Drew Marceton suggested the woman was a "crack whore mother (who) raised a psychopathic killer," prompting Haskett to run at him before being restrained by police.
The judge will rule Oct. 21. (Edmonton Sun)
I don't think I'd believe a word this piece of trash said if his own life depended on it!
He says he made a "mistake by just agreeing to the statement of facts just to move things along so that I don't get shouted at or receive nasty letters in the mail." What about the mistake he made in torturing an innocent creature?? Do we hear any apologies for that? No, just a lot of whining!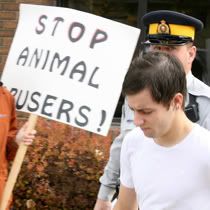 The case has been often cited as a reason why an animal cruelty bill — under debate in the House of Commons — should be brought in to impose more severe penalties for animal cruelty cases.
Crown prosecutor Gord Haight said the guilty plea should stand, arguing that if Haskett had indeed done less than what he'd previously agreed to, he should have had gone through with his one-day trial to share his side of the story with the public.
He also repeatedly asked Haskett why he didn't clarify his legal misunderstandings with his first lawyer, who has since withdrawn from the case.
Justice Ian Kirkpatrick will make his decision in October whether to vacate the plea.
Alan Pearse, Haskett's new lawyer, said everyone deserves their day in court.
"As passionate as people get, as upset and as understandable as people get, I think it is very unfortunate when people take the law into their own hands," Pearse said. (Calgary Herald)
Well, doesn't he think it's unfortunate when someone decides to play executioner too? Guess not, after all, it was "only a dog."
Email This Post
Like this post? Subscribe to my RSS feed and get loads more!