Surfer Dog Saviors Honored
Friday, September 21st, 2007 at 9:37 am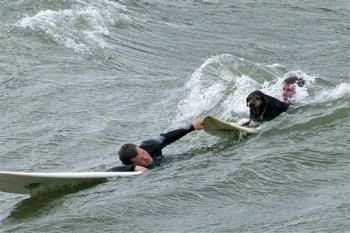 Matt Smolenski, 25, and his friend, Joe Riopelle, 24, who were in the right place at the right time to rescue a dog that was swept off a Michigan pier last week, will be honored for their brave actions.
The pooch, Shell-B, and his Jack Badgero of Ferrysburg, are regulars at the pier and Shell-B seems to enjoy barking at the waves.
On September 11, the waves decided that Shell-B should join in and swept the pooch off the pier, only quick thinking by Smolenski saved the dog who was struggling in the strong rip current. He jumped on his surfboard and paddled out to the dog and pulled the pooch on and headed back to shore. Tiring from his efforts, Smolenski's friend, Riopelle. helped pulled them in to safety.
Each of the surfin' rescuers will receive a "Compassionate Citizen Award" from People for the Ethical Treatment of Animals. The award consists of a framed certificate for each man accompanied by a thank-you card signed by PETA.
Says PETA Director Daphna Nachminovitch, "Thanks to these two men's bravery and quick thinking, a dog will live to bark at the waves another day. Hopefully, their compassionate action will inspire others to intervene when they see an animal in distress."
Source – Muskegon Chronicle
Email This Post
Like this post? Subscribe to my RSS feed and get loads more!