Teen Sexually Abuses Dog, Throws it in Dumpster
Wednesday, August 1st, 2007 at 9:29 pm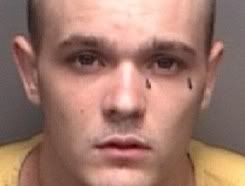 Update – 11/26/08 – Four Year Prison Sentence for Teen Who Sexually Abused Dog
Meet Nicholas Densmore, 19 of Titusville, FL. This deviant was arrested for sodomizing his grandparents' tiny little Yorkshire terrier, Dutchess, with an unknown object then throwing the poor injured dog in a dumpster.
Densmore was arrested Monday and charged with one count of animal cruelty; he's being held in Pinellas County Jail on $25,000 bond.
Deputies say 19-year-old Nicholas Densmore's grandparents called police after making a horrifying discovery.

Robert and Claudette Densmore told investigators that they noticed their grandson, who was visiting them, was not in their house.

They went outside and saw him sitting in their motorhome in the backyard.

They said when Densmore saw them coming, he picked up their Yorkshire Terrier by the scruff of the neck and took off with the dog.

They followed Densmore to see what was going on.

They eventually found the dog cowering and whimpering in a city dumpster.

When they removed the dog, they discovered it was bleeding from its rectal area. (My FOX Tampa Bay)
The tiny dog underwent surgery yesterday and is expected to recover fully and return home very soon.
State records show he has previously been arrested seven times, five of them as a juvenile. In August of last year, in his first arrest as an adult, he was charged with trespassing and resisting arrest. He pleaded no contest and received 60 days in jail.
Email This Post
Like this post? Subscribe to my RSS feed and get loads more!