The Dog Who Can Sense Death
Tuesday, August 14th, 2007 at 10:33 pm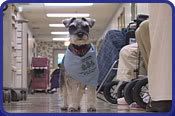 Meet Scamp, a little Schnauzer who resides at The Pine nursing home in Canton, Ohio. Like many live-in pets at nursing homes, Scamp brings companionship to the residents but he also does more than that. Scamp seems to have a gift that tells him when the end is near for one of the residents and he loyally stays with them during their final hours.
Deirdre Huth, Scamp's owner and a staff member at The Pines says that he always raises an alarm when he senses time is close for one of the seniors. "He has either barked or he'll pace around the room. The only time he barks is when he's trying to tell us something's wrong," Huth said.
When Yvette Notturno, whose dear friend, Andrew Popa, was a resident at the Pines got a call that Scamp wouldn't leave Popa's side, she rushed over knowing that he didn't have long. she had heard about Scamp's gift and sure enough, shortly thereafter Popa passed away.
Scamp has predicted practically every one of the 40 or so deaths at The Pine in his three years in residence there and rather then looking at the little pooch as some kind of a 'grim reaper,' it seems that his presence is welcomed as the end draws near for the seniors there.
"It's not like he's a grim reaper," Director of nursing Adeline Baker said. "It's kind of comforting to know that maybe at the end of our lives, if we don't have family members, there will be somebody there to be with us."
Email This Post
Like this post? Subscribe to my RSS feed and get loads more!