Third Suspect in 'Rescue Scam' Arrested!
Thursday, September 25th, 2008 at 8:25 am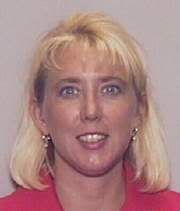 UPDATE 8/31/09 – 120 Animal Cruelty and Abandonment Charges Plea Bargained to 2 Misdemeanor Animal Abuse Charges
See Update – 10/4/08 – Cagata & Accomplices Facing Over 100 New Charges in 'Rescue Scam'
Yesterday I told you about the twisted rescue scam that 'My Best Friends, Inc.' rescue had been perpetrating; rescuing dogs and animals from shelters and selling them for profit, allowing others that couldn't be sold to starve.
James Cullen and Shannon Kraham were arrested and now the 'ringleader', the director of 'My Best Friends, Inc' has also been arrested. Carrie W. Cagata turned herself in on Wednesday night to the Lee County Jail after she was named as a suspect. Cagata is now facing four felony counts of animal cruelty and four misdemeanor counts of animal abandonment.
Cagata reportedly adopted pets from animal shelters across Florida, deputies say. She allegedly left the animals she couldn't sell for a profit at the Buckingham home.

According to former staff members, Cagata bought the nonprofit My Best Friend's Inc. about 18 months ago. Since roughly that time, Lee County Animal Services has received at least six complaints about the organization.

Cagata herself had at least five complaints from Animal Services, dating back to November 2005 with the most recent on May 21.

Sandra Hinderliter, who worked at the organization's clinic in North Fort Myers, said Cagata was housing animals, many of them sick and emaciated, at the clinic in June.

"She kept bringing dogs in to the shelter (to live)," Hinderliter said. "This is a clinic, it's not a shelter."

Erin Mitchell, the organization's former office manager, said she hadn't been paid since the beginning of May. Mitchell was fired from her job at the end of August. (news-Press)
What an abomination! And Animal Services had received complaints from My Best Friends Inc. as far back as 2004. Three complaints were filed against the organization this year. How bad do things need to get before anyone will do anything??
And emails have been sent to Petfinder where 'My Best Friends, Inc.' has dogs listed and they are looking into the situation. The rescued animals are sitting and waiting and unless Cagata relinquishes ownership, authorities will have to get a court order which means at least another month before these poor abused and neglected animals will even have a chance.
Email This Post
Like this post? Subscribe to my RSS feed and get loads more!