This is Justice – 6 Year Sentence for Dog Killer
Sunday, March 2nd, 2008 at 8:41 am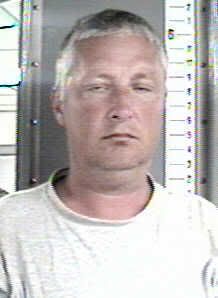 In the brutal dog killing in 2006, Jeffrey Paul Jones, 44, of 3557 Napier Ave., faced five felony and misdemeanor charges: aggravated animal cruelty, giving a false statement, unlawful trapping, abandonment of a dead dog on the private property of another and giving a false name.
He nearly decapitated and brutally killed a 9 yr old mix breed dog, Emax, belonging to Otis Redding III when it wandered onto his property. Jones' claim was that he was protecting his property and chickens, which he was keeping illegally inside the Macon town limits.
After only about an hours deliberation the juror returned a guilty verdict on the five counts, ending the five-day trial.
Jones has admitted to trapping and killing Emax, a 9-year-old mixed-breed pitbull, between May 19 and May 20 at his former Hill Street residence.

George McCommon, Macon's city veterinarian, testified Thursday that Emax had suffered three neck lacerations, which damaged the dog's spine and were caused by a machete.

Jones disposed of the dog's body behind a nearby vacant home and later discarded the weapon in a Dumpster.

In her closing argument, Bibb County assistant district attorney Kim Schwartz described Jones as a fixated criminal who stopped at nothing to protect the chickens and rental property he called "sovereign ground."

"Having those chickens (inside the city limits) was against the law and the defendant knew it. But Jeffery Jones was going to do it anyway. He was going to set up a chicken farm right in the middle of downtown Macon," Schwartz said.

"He was obsessed … and that obsession eventually led to the death of Max."

Schwartz cited various pieces of evidence to depict Jones' state of mind approaching the time of Emax's killing.

Included was a drawing by Jones of cats and dogs in crosshairs that read "Rifle Range Advisory."

" 'Range' is going on the offensive. He was making a plan to hunt down and kill the dogs in the neighborhood," she said. "Did he kill Max because he reasonably believed Max was a threat or did he kill Max because he was angry and out for revenge?"

Jones had kept chickens in a pen outside at his rental home. Before Emax's death, some dogs had entered the coop and killed the birds. Jones purchased replacement chickens and attached leghold traps to a tree near his backyard to catch other predators.

The night Emax was trapped, Jones' chickens were in a brooding box inside the home.

Jeffery Powers, one of Jones' lawyers, argued Friday that his client long had been the victim of "unleashed, unrestrained animals that continued to wreak havoc on Riverside Drive Lane and Hill Street."

"Animal Control just wasn't going to do anything," Powers said.

Jones' defense team alleged that Emax's owner, Otis Redding III, had been the recipient of favors from law enforcement who investigated the case, citing a "velvet rope" to the top of the rank and file.

"This was a sensational case that received royal treatment," Powers said, because Redding is the son of the late soul singer Otis Redding.

Jones addressed the court before he was sentenced.

"I felt like my back was against the wall. If my animals were to be safe, this had to be done," he said. "If I could go back and undo it all, I would."

Schwartz said the verdict was multi-fold.

"We were particularly concerned about the defendant, not only because of the horrendous nature of this crime," she said, "but also because of the statistical scientific connection between (people who commit) violence against animals and (people who commit) violence against humans … and that the potential for future violent crimes would be the case." (Macon.com)
Email This Post
Like this post? Subscribe to my RSS feed and get loads more!