Thorp, WI Dog Auction Protest
Sunday, March 16th, 2008 at 9:57 am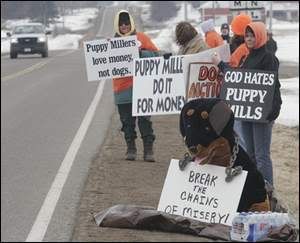 On March 12, 2008, there was a dog auction in Thorp, WI at the Horst Stables. This is not the first auction held there but just another of the many and ongoing dog auction that have been taking place.
A protest was scheduled yet again by Chuck Wegner of Clark County Human Society to help to raise awareness of this event and the horror of dog auctions and puppy mills.
Leon Horst of Horst Stable who organizes these auction complained of the protesters, "they got too much time and money."
But when asked about the association of dog auctions and puppy mills, Horst told the reported for Gannett Wisconsin Newspapers and refused to answer any more questions.
Auctions supporters, such as Earl Hoffman, chairman of the Clark County Republican Party, defend Horst and the auction saying that they are legal and legitimate. Well, no one is saying that they are not legal per say, the problem is morals and ethics. Are they humane? No!
Wisconsin has no law against dog auctions and virtually no regulations on breeding, according to Cheri Wegner, director of administrative services for Clark County Humane Society. "We know that the dogs in puppy mills are living in atrocious conditions," said Wegner.

Last week, 84 dogs were surrendered to the South Wood County Humane Society from what authorities have described as a puppy mill in the town of Dexter. Some were suffering from mange, other skin diseases, infections and injured limbs.

The Wisconsin Puppy Mill Project, a nonprofit organization that advocates for stricter breeding regulations, keeps a record of puppies purchased at the Thorp auction. Some of their findings include dogs sold as the wrong breed, a male dog sold as female, a dog with infected cysts between its toes believed to be from urine burns and dogs with various other diseases and injuries.

Protesters, organized by the Clark County Humane Society, have picketed in Thorp for the past four years. Their goal isn't to stop the auction, but to get public attention, said Wegner.

The Puppy Mill Project is drafting a bill, along with state Rep. Steve Wieckert, R-Appleton, that would put more regulations on breeders, said Eilene Ribbons, the organization's director.

Ribbons, who estimates there are more than 2,000 puppy mill facilities in Wisconsin based on observations of dog sales, said the industry is growing.

Because it's rural and isolated, Wegner called Clark County the "puppy mill capital of the state." (Wausau Daily Herald)
For more information, take a few moments to read some of the following articles:
Email This Post
Like this post? Subscribe to my RSS feed and get loads more!