Three and a Half Years Later Missing Dog Found 400 Miles From Home
Monday, August 6th, 2007 at 7:52 am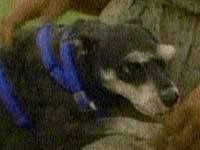 Here's another wonderful example of why you should microchip your dog. After three and a half years Crystal Keys never expected to see her black and white miniature schnauzer, Bosco, again. When he went missing from her Los Angeles home, he didn't have collar or tags but he was microchipped.
After his disappearance, Crystal contact the company that handled the microchipping but never hear anything back, until now. Needless to say, she was astonished tor receive the call that Bosco has been found, and in Phoenix, AZ, 400 miles from home, no less!
"They told me he was in Phoenix Arizona wandering without tags in a field," Keys said. "The animal shelter people picked him up."
She said that she knew it was Bosco when he was back home because of his 'trademark hug.' No one knows how the pooch wound up 400 miles from home or what the past 3 1/2 years have held for him and Bosco's sure not telling!
Email This Post
Like this post? Subscribe to my RSS feed and get loads more!