Three-Day-Old Abandoned Puppy Gets Purr-fect Surrogate Mom
Wednesday, October 29th, 2008 at 8:20 am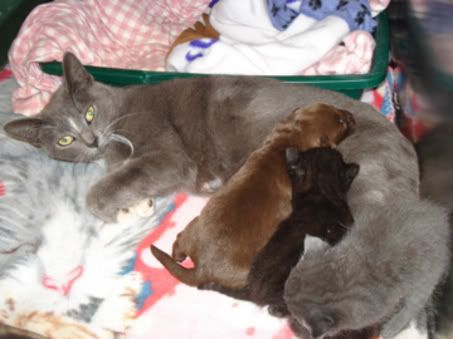 Three-day-old Baby Bear, a chocolate Labrador puppy was surrendered Saturday to the Humane Society of Harrisburg after his mother abandoned him. Workers bottle fed the tiny puppy and kept him on a warming pad until they decided to see if one of the new shelter mothers would accept him and care for him along with her babies.
Into the picture comes Jelly Bean, a gray tabby cat with two tiny babies of her own, Jelly Belly and Jelly Roll. Jelly Bean may think her new baby looks and smells a little funny but maternal instinct rules and she cares for Baby Bear right along with her own, all of which are about the same size right now.
"Staff just thought they'd give it a try, and they both just took to it," spokeswoman Kelly Hitz said. "She doesn't seem to mind. She doesn't seem to treat him any differently. She knows he needs some help, and she's there to give it to him."
So Jelly Bean will 'mother' Baby Bear until he is ready to be weaned and at 8 weeks, all the babies will be available for adoption. I guess that Baby Bear will probably do well with a family that may have kitties as part of their family.
Maternal instinct is an amazing thing and I sometimes think that in animals, even stronger than in some people. Stories like this can certainly teach us all a lesson. 😀
Email This Post
Like this post? Subscribe to my RSS feed and get loads more!