Tiger Cubs Get Surrogate Mom in Golden Retriever
Thursday, July 31st, 2008 at 7:56 am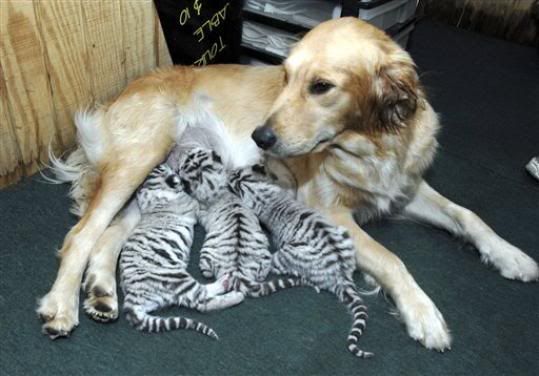 It's another one of those stories of surrogate mom-hood. This time at the Kansas City zoo.
The three tiger cubs were born on Saturday and their own mother quickly stopped taking care of them. Luckily for the newborn tiger cubs, Isabella the Golden Retriever, had just recently weaned her litter of puppies and had no problem taking on the cubs.
Zoo owner Tom Harvey says, "The timing couldn't have been any better."
Although it's not something that happens very often, it does happen and I've done quite a number of stories about dogs playing surrogate mom to cats, bigs one and small ones.
Safari Zoological Park specializes in endangered species. It has leopards, lions, baboons, ring-tailed lemurs, bears and other animals.
Email This Post
Like this post? Subscribe to my RSS feed and get loads more!