Tiny Dog Stolen then Thrown to its Death from a Moving Car – VIDEO
Wednesday, March 19th, 2008 at 7:39 pm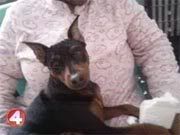 It's hard enough when your dog is stolen practically out from under your nose but imagine Renee Torrence's horror to find out the next day that the thieves threw her little eight month old min pin, Sisco, from a moving vehicle. Before anyone could rescue the tiny dog it was hit by another vehicle and it's deadly fate sealed.
Last Friday, Renee came home from work during her break and just like any other day, she let her two dogs, Sisco, an eight month old min pin and Shobai, her rottweiler, out in the yard to do their business and romp and play. She could see them both from her kitchen window and enjoyed watching them play. Just a short while later she called the dogs in, Shobai came in but little Sisco was no where to be seen.
She searched the neighborhood…
"So I'm yelling Sisco, Sisco. He's not around. He was my baby. He was always in my lap."
Renee did what anyone who loses a dog does, she searched the neighborhood, made calls, printed fliers. The next day she before she distributed the fliers she decided to check the Buffalo Animal Shelter.
"I said let me go to the pound and see if someone brought him in. That's when they told me that um, someone had thrown him from a moving car."
Dave Lavango at the Shelter said, "I got a call from a gentleman on the 33 headed outbound on Grider. He witnessed a small dog, black dog being thrown out of a car window."
Lavango said, "We recognized the dog and as she was looking through the kennels, I took it to the officer who responded and he positively identified the dog as the dog he picked up on the 33."
"I can't imagine why someone would take a little puppy, it was a baby, and do something so cruel."
Unfortunately the person who called seeing the dog being thrown was so upset they couldn't identify the vehicle and authorities are asking for anyone who may have any information to please come forward. If you have any information call the Buffalo Animal Shelter at 851-5694.
Renee doesn't know if Sisco was stolen from the yard or escaped but no matter what, a horrible crime was committed. There was no reason for anyone to be so callous and cruel!! Please help! Let there be justice for little Sisco and Renee Torrence.
Source – WIVB
Email This Post
Like this post? Subscribe to my RSS feed and get loads more!