Travesty of Justice in Halifax! Let Brindi Go Home! PETITIONS
Wednesday, August 27th, 2008 at 8:46 am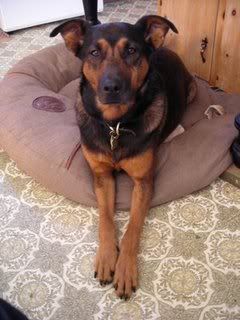 Update 1/16/09 – Brindi is Going Home!!
This is Brindi, a beautiful 5 year old lab/shepherd mix. Brindi is incarcerated at the Halifax SPCA and has been since was seized from her home on July 24th and place under a euthanization order.
Brindi was scheduled to be killed on August 7 but was saved from death by a temporary reprieve due to Brindi's owner, Francesca Rogier, instituting legal measures to save her life. This measure is just temporary and Francesca is fighting every day.
Now, lets talk a bit about Brindi and the 'horrible' crime that put her in the untenable situation she's now in.
Brindi was originally found as a stray about three years ago, tied up, huddled over a cardboard box that contained her 5 puppies. Brindi's puppies were all adopted but Brindi sat in the shelter for two years before she was finally given her chance. Francesca Rogier adopted Brindi in June of 2007.
From tough beginnings, Brindi went to a home filled with love and the rescued became the rescuer. Francesca, who had her own problems, found her solace and best friend in Brindi. They have been almost inseparable since they've been together.
Her 'crimes', although they cannot be overlooked because they put her in the situation she in now in, are small. No, the has never bitten a person but she has shown some aggression toward other dogs. There were three instances, one minor injury, and Francesca takes full responsibility for the transgressions.
I'll let Francesca tell this in her own words, from Free Brindi;
While I generally am able to keep Brindi under my control, on certain occasions, resulting from unfortunate coincidences, she suddenly went after other dogs. She grabbed them by the scruff of the neck and just held. I was able to separate them quickly, and none of the dogs required extensive medical treatments. The first was apparently reported not because of the other dog's condition – the owner declined my offer to pay for a vet – but out of concern that "it might have been a child". The police issued me a warning and a further one for not having a municipal licence, which I made sure to obtain immediately. The second incident, reported last April, resulted in a minor injury and would have normally resulted in a fine, possibly an order to build a fence . Instead, they issued Brindi, who rarely ever licks anybody, let alone threatens them, with a permanent muzzle order, requiring strict compliance, even on my own property.

Records show that the animal control officer on the case brought the muzzle order into play when the other owner expressed concern for my costs, since I had already offered to pay for her $150 visit to the vet (the cost of a general exam for a new patient, and precautionary antibiotics for small puncture wounds). I do not know if she was cognizant that a muzzle order would effectively hold a death warrant over my dog's head. Once in place, rigid local by-laws dictate euthanization after any further violation, regardless of mitigating or extenuating circumstances – even if she was seen without the muzzle on for a moment.

When the same officer issued me the muzzle order, he claimed it was his boss's response to a number of phone calls demanding Brindi be put down, suggesting that this may be because of my outsider status. He swore he had nothing to do with it. When I begged him to let me pay a fine and build a fence instead, he said the muzzle order was permanent and could not be appealed. Suddenly, Brindi was no longer a dog with a challenging dominance problem: she was a threat to public safety.

In a community where a wide range of dog behavior is tolerated, this heavyhanded action was baffling. To avoid another incident, I began agility training with Brindi in April, to improve her recall, and I planned to build a fence as soon as it was physically possible. This summer, I began work on my heritage home, a major renovation to add a new foundation for a basement and garage. The contractor failed to meet a completion date of August 1 – not even close – and until I can get things going again, the house remains lifted on steel beams, surrounded by rocky piles of dirt.

On July 20, Brindi slipped out my patio door before I could finish muzzling and leashing her. With me close behind, calling her, she ran through the huge piles of rocks and dirt to the street where a man was walking two dogs, I saw her circle them with the man kicking at her. She then ran across the street, and with assistance from a passing driver, I got her home within a minute. To my knowledge, the dogs were not injured. After simply scolding me briefly, the man, whom I did not know, left the scene. He later said that he hadn't thought to call Animal Control until he heard about earlier incidents. And I can't help wondering if these included a false rumour or two. In any event, without contacting me, he did make a report, and the seizure order was issued within four days.
So now Brindi has been sitting on what is basically death row for more than a month. Francesca has not been allowed to even see her beloved dog. She doesn't know how Brindi is doing except from 'reports' from animal control officers.
So far Francesca, with the help of her lawyer, has been able to keep Brindi alive but for how much longer is anyone's guess.
Francesca has done anything and everything she possibly can, contacted anyone who might be able to help including trainers, there are support groups and supporters not only in Canada, people are banding together to get Brindi out of the shelter and home. There has been a fence and run built at Francesca's property to make sure that there will be no more accidental escapes.
Please, Brindi and Francesca both need help, all of our help, and they need it now!
Contact Halifax Animal Services – HERE
or call – (902) 490 1791
Contact the Halifax Mayor – Peter Kelly – Here
or call – (902) 490 4010
Contact the Nova Scotia SPCA and ask them to help – HERE
Contact the Dog Legislation Council of Canada – HERE
Share this in your groups, forums, blogs, websites, email. Brindi is not a 'dangerous dog'. She deserves the chance to prove this so. She needs to be with Francesca and Francesca desperately need to have Brindi back!
Won't you help?!
There are two petitions circulating to Save Brindi, please take the time to sign them.
Save Brindi – Petition – The Petition Site
Free Brindi – Petition – IPetition
I'll continue to update this story. Please help by signing the petitions and circulating this story. Help to get the word out, post and crosspost!!
Keep up with Brindi's story and Francesca's ongoing fight to save her life at Free Brindi!
Email This Post
Like this post? Subscribe to my RSS feed and get loads more!