Two Dogs Bagged Like Trash, Only One Survives
Monday, December 10th, 2007 at 7:35 am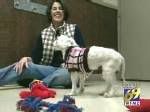 In Lopatcong Township In New Jersey, someone threw two 5 year old poodle mix dogs in a white plastic trash bag and tossed the trash bag in the brush along Lock Street. Saturday morning 4 th grade teacher, Tatum Porter and her mother were walking Tatum's dog, Nicco, a 70lb shepherd mix and heard barking. She followed the sound, finding the bag with the dogs. When she opened it, only one of the two dogs had survived the cruel ordeal.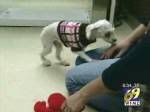 "The stench was terrible," Porter said. "Her fur was completely matted and doused in urine. I couldn't even see her eyes. She was rubbing her head on my body trying to get her eyes cleared."
She called the police and the dog was taken to Warren Animal Hospital. It was in sorry shape after being in the bag for possibly 24 hours.
"It's fur was so dirty and matted that its eyes were literally glued shut," Dr. Vincent Zaccheo, a veterinarian at Warren Animal Hospital said. "But we've cleaned her up and she seems to be stable now."
The dog was also malnourished and is being treated the the vet's.
Porter dubbed the little white poodle mix 'Locky' because she found her on Lock street and said she wanted to adopt the dog, a good Samaritan twice over. "I'm not going to rescue a dog halfway and take her to a shelter. I am definitely going to take her."
Warren Animal hospital is donating the cost of medical services for this abused little dog. With a little TLC, Locky should be able to go to her new home very soon.
Needless to say, police are looking for information on this crime and an investigation is underway. The believe that someone probably threw the trash bag with the dogs in it from a moving vehicle. Anyone with information is asked to call Sgt. Scott Bisci at 908-859-1212.
See the VIDEO 
Source – NJ.Com, The Morning Call
Email This Post
Like this post? Subscribe to my RSS feed and get loads more!