Two Dogs Brutally Abused, One Dead – Reward!
Wednesday, August 13th, 2008 at 7:35 am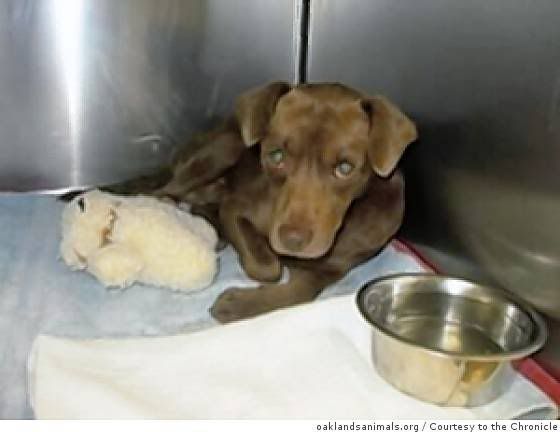 Authorities are asking for the public's help to find the person(s) who brutally abused two dogs, killing one, near the corner of 98th Avenue and Lawlor Street, Oakland, on August 1.
In this horrific case of abuse, two dogs were shot then tossed from a vehicle on East Oakland Street. Several neighborhood residents "reported hearing several gunshots, a car door open, a dog yelping and the sound of car racing off. One resident said she went outside after hearing the noises and found the two dogs in the gutter."
When police arrived they found a small female miniature pincher, battered and broken, dead in the gutter. She had a gunshot to the neck and her back, leg and spine had also been shattered.
The other dog, a small brown mix male has a broken back and pelvis and a possible gunshot wound to the neck. He is being treated at the Oakland Animal Shelter.
The dog will need further surgery to wire his broken bones back together and a foster home in which to recuperate, Parascandola said.
Officials have raised $2,500 of the $7,800 needed to care for the dog, which has been named Little Lance.
"The attack on these dogs was extremely vicious," Oakland Animal Shelter director Adam Parascandola said. "Not only were these dogs shot and thrown from a car, but the massive trauma to both dog's spines and legs leads me to question if they were also previously beaten. It is clear that whoever is responsible for this crime is capable of extraordinary violence."
A $1,000 reward is being offered for information leading to the arrest and conviction of the vicious piece of human trash that did this.
Anyone with information about the shooter is asked to call Oakland animal services at (510) 535-5604. To donate toward the surviving dog's surgery or to foster him, go to www.oaklandsanimals.org.
Email This Post
Like this post? Subscribe to my RSS feed and get loads more!