Unbelievable! Mayor Orders Shelter Dogs Dumped in National Forest
Friday, June 13th, 2008 at 8:18 am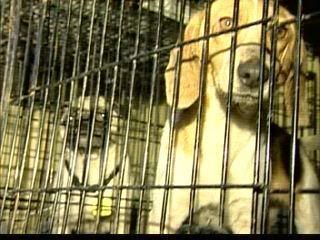 This is one of the most unbelievable, thoughtless and cruel things I've ever heard!
Mayor James Valley of Helena-West Helena, Arkansas, who says he has no problem with dogs, decided the shelter dog would be better off fending for themselves, so he ordered them dumped in the St. Francis National Forest.
I was stunned when I read this. What kind of an idiot would take dogs from the city animal shelter and just abandon them then to the wild? These are domesticated companion animals, not wildlife!
He just believes that strays in his east Arkansas town are better off in the nearby national forest than the local animal shelter. The mayor says the city's animal shelter was so run down a regional humane society worker cut the locks last winter and released all the dogs.
The city then moved the operation to a temporary fenced-in area outdoors at the city sanitation department. Still, people complained that the animals were not properly cared for at the temporary shelter, so the mayor decided the dogs would be better off fending for themselves in the St. Francis National Forest.
Valley says the city street director released nearly a dozen dogs into the forest Wednesday after the animals were fed and watered.
LETTER FROM MAYOR JAMES VALLEY

Ladies and Gentlemen:

This morning we began the process of dealing with our animal shelter problem. I have met, today, with Ms. Gloria Higginbotham. She is heading up a committee to create a county-wide animal shelter and perhaps with the participation of all governmental units, we can provide the kind of facility that will be deemed appropriate.

In the mean time, we are or have released all but a few our those animals heretofore housed at the sanitation shop. We fed and watered them and took them to the St. Francis National Forest and released them to freedom. We are disassembling the pens or fences and will not any longer house or keep any of these animals. This problem is dogging us and taking away from our ability to focus on the greater good for the community as a whole. One of our animal control officers has been to the hospital three times in as many months. Twice for bites and once for a severally sprain ankle growing out of incidents with these animals.

When Ms. Higginbotham's full plan is revealed, I plan to support it and assist her and the group in caring for our animals.

I just wanted to let you know.

Sincerely,
James F. Valley
"How long can these animals survive in the wild?" said Donna Pierce. "It's sad."
"They didn't deserve this," said Samantha Scott.
A representative with the Humane Society calls the mayor's actions appalling and negligent saying that what happened is the equivalent to abandonment.
Yesterday many people spent the day searching for the dumped dogs. Scott spent time trying to feed a stray she found. "I've tried to feed him some bread and gave him some water," she said. "But he acts real skittish, like he's scared to come to me."
The Mayor has also decided to suspend any dog catching operations for now as well. If animal-control officers get a call now, "they're going to pick the dog up and probably just take them to the other side of town," Valley said. "And it's going to be someone else's problem. … or maybe they will take them to the forest."
A spokeswoman for the U.S. Forest Service says the agency was not contacted by the city before releasing the dogs, and does not condone releasing animals into the forest. The Forest Service Law Enforcement is conducting an investigation. Farley says they'll proceed when it is complete.
It is illegal to dispose of personal property or pets at a national forest. Mayor Valley insists he had the dogs released in a rural area not too far away, so he says he broke no laws.
Do these idiots have no clue what these dogs are up against? Starvation, wild animals, predators, not to mention the dogs that try to find their way back and are killed on the roads. And what about the dogs not spayed or neutered, rampant breeding! And the ones that live will turn into wild roaming dog packs, menacing anything in their paths.
Needless to say, Mayor Valley is in hot water; from his town, from animal advocates and quite likely from the US Forest Service.
I believe the mayor, the governor and animal welfare organizations need to be contacted. People who aren't need to be made aware of this deplorable act.
And the Mayor's reasoning; he had no other choice other to set the animals free. "We're caught in a Catch 22," he said. "If we continued to do what we were doing, we'd be bad. If we let them go, we're wrong for that as well. But the storyline would have read, if I had euthanized them, 'Mayor Kills All of the Dogs in the City.'"
By the way, seems the good Mayor is also a lawyer. Wonder why he could not have foreseen the legal problems that this is going to cause?
I think most anyone with a heart and brain could have come up with something better than this!!
Helena-West Helena Dogs Dumped into National Forest
Here's a second video a friend brought to my attention (thnx Jacqueline). Listen to his comments!! OMG!
Helena-West Helena Mayor Dumps Dogs in National Forest- Doesn\'t care
When asked about who's responsible if one of the dogs bites a child, the mayor responded, "It's going to be the parent's responsibility to immediately get that child treated….The city owns no dogs, so we won't be liable."
Email This Post
Like this post? Subscribe to my RSS feed and get loads more!